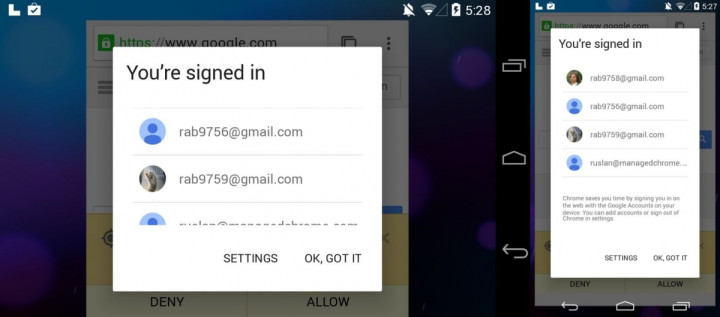 A couple of screenshots from what is said to be the next version of Android 'L' have leaked, ahead of Google's I/O event.
Reddit user, Doopl found these screenshots from an issue posted at Chromium Issue Tracker. It now appears that the issue has been taken down. As Doopl notes, these screenshots are from a new version dubbed Android L.
The screenshot shows a Google account login dialog which is significantly different from the current version. It has redesigned Chrome with design elements from Quantum Paper, which is a project to unify coding for visual, motion and interaction design across all platforms such as web, Android and iOS.
Besides, there is an L icon in the status bar and a bell icon, which according to Android Police sources, hint at a new feature in the Android L version that will offer 'limited interruptions,' to mute or partially mute notifications. The Android L is expected to have pop-up notifications and this limited interruptions feature might prevent them from appearing.
The screenshots also suggest that they are taken from a device having a screen resolution of 1280 x 768, which again hints they are from a Nexus 4. Besides, the screenshots do not show background protection behind the status bar and navigation bar.
Hopefully, Google will provide more information about Android L at its I/O developer conference, which is just around the corner. Given below is the note from Reddit user Doopl about Android L.
Probable images of Android 'L' posted on Chromium issue tracker (self.Android)

submitted 10 hours ago by Doopl

The source - Update: Page taken down.

My assumption that they are from a new version of Android is based on the 'L' icon in the status bar and the redesigned dialog box, compared to what is shown in the tablet screenshots from the same page which are obviously from a device running KitKat (1, 2).

The screenshots also show a slightly updated UI in Chrome 37 that matches Google's new design language, complete with fatter action bar and circular-dotted overflow button.