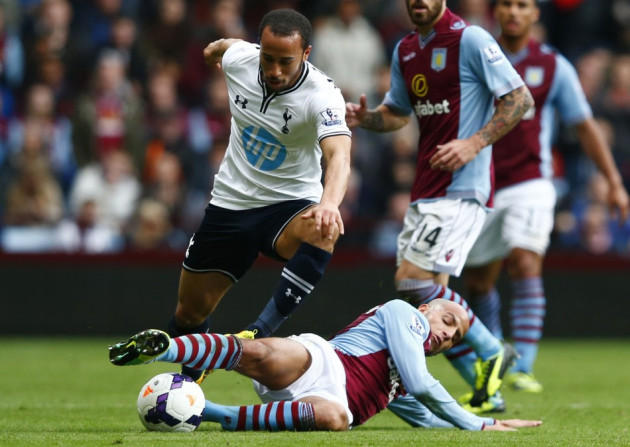 Tottenham Hotspur winger Andros Townsend has revealed how a conversation with manager Andre Villas-Boas inspired a turnaround in his White Hart Lane career.
Townsend spent the second half of last season on loan at Queens Park Rangers where he scored two goals in 13 appearances.
Upon the 22 year old's return to Tottenham, Townend has been a regular this season, starting nine of the clubs games in the Premier League and stared for England in the World Cup qualifiers against Montenegro and Poland.
But after nine loan spells away from Tottenham, Townsend has revealed he had doubted he would ever make it in north London.
"There were times when I didn't think I'd get the chance," he added.
"When you're on-loan you can sometimes get forgotten about and you can fall off the radar. I had a call from Andre Villas-Boas last season and that helped me a lot.
"It gave me a big boost and when I returned to Spurs he's been really good with me. He gave me a chance and I'm determined to take it.
He added: "I understand the comparisons [with Gareth Bale] but I don't listen to them.
"I've trained with Gareth before at Tottenham and he's a fabulous player and somebody who I'd say is an idol of mine. But we're different people and I think comparing us is not fair. We're both individuals with individual traits and it's important we stay like that."
Perhaps a sign as to Townsend's discontent with his role at Tottenham came last season when he was fined £18,000 for breaching betting regulations and withdrew from England's Under-21 European Championship squad.
But since returning to Spurs Townsend's career has taken off and despite a raft of summer signings has installed himself as among Villas-Boas' most important players while he is almost certain to travel with England to next year's World Cup finals in Brazil.
But Townsend also has designs on winning the Premier League this season, with as many as six sides in contention: "I definitely think we can win the title
"It's a big target for us. We've had a good start to the season and the boys are feeling good.
"There's a great atmosphere in the squad and that's given us confidence. We know it will be difficult and there are lots of sides up there, but I think we've got the strength and depth to match them."