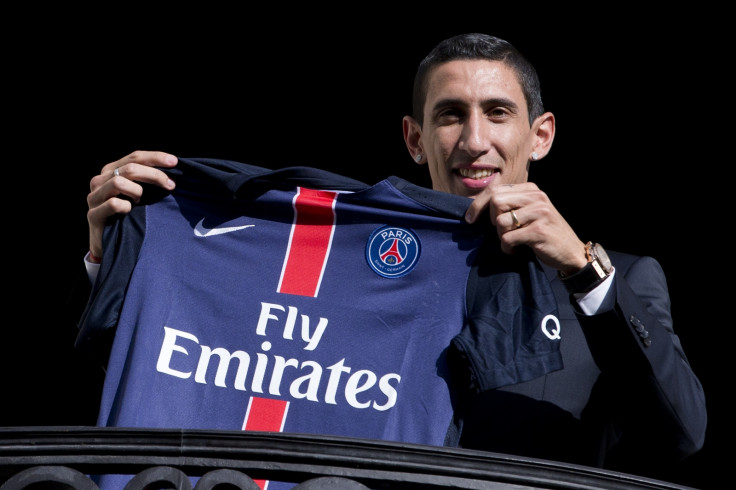 Angel di Maria has insisted that his exit from Manchester United to Paris Saint-Germain was a joint decision, while also informing supporters he is sorry he did not make more of a successful impact during a short and underwhelming stint at Old Trafford.
The Argentine became the most expensive incoming player in the history of British football when arriving in the Premier League from Real Madrid for a cool £59.7m ($92.5m) fee in August 2014, but largely failed to impress after a positive start and never appeared to settle into one specific position during Louis van Gaal's numerous tactical switches.
In addition to his on-pitch struggles, Di Maria, whose transfer to the Parc des Princes is reported to be worth in the region of £44.3m, was also the victim of an attempted break-in at the home he shared with his wife and daughter in Cheshire.
Given that the 27 year old featured for just one solitary season at United, many have been quick to criticise him for a lack of determination and fight by leaving so early rather than attempting to prove himself worthy of such a hefty price tag.
Di Maria, however, insists he was not entirely responsible for the decision to leave for France and claims the club must have wanted to sell him otherwise he would still be there.
"I'm happy because I know my wife and child will be happy in Paris," he was quoted as saying by BBC Sport after being unveiled to the media as a PSG player for the first time on 6 August.
"It wasn't just my decision to leave. If I left it was also because they decided to sell me. The three parties agreed. Me, Manchester United and PSG agreed the deal."
The former Benfica midfielder's struggles in England meant he was unable to build a particularly strong rapport with United fans, although he nevertheless made the decision to pen an open letter to them in an attempt to explain the rationale behind his premature departure.
It read: "I write this note to thank all the Manchester United family for the great support received during the year I've been part of this club. When Manchester United chose me as part of their team I felt extremely honoured because I knew what this Club means and how it trusted me.
"Nevertheless, I'm aware things didn't work as we all expected and believe me, I feel really sorry about it. However in the career of a football player sometimes the unexpected and unwanted may happen.
"I can guarantee you it was not for trying. I did my best but football is not like maths: often a lot of things out of our control affect the way we feel and the way things turn out. I am sorry it did not work out as I would have wished in this amazing huge club.
"I want to give special thanks to all the directors and management of Manchester United as well as to every member of the staff and colleagues as they gave me all their support. Also a special mention to all the fans who always trusted me and showed me their respect and love. Now is time to move to PSG but the glorious Manchester United club will be forever in my memory."