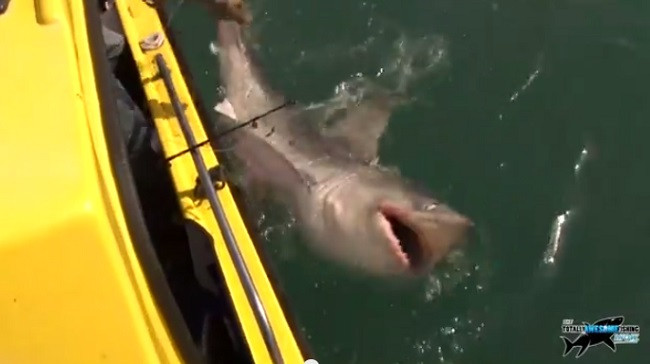 Graeme Pullen got more than he bargained for on a fishing trip near Devon when he hooked the largest shark ever caught single-handedly in British waters.
The 62-year-old angler was fishing for pollocks with his friend Wayne Comben when the 450lb porbeagle shark took his bait.
Pullen took almost 30 minutes to reel in the beast before tagging it and then releasing it back into the sea.
Speaking to The Mirror, he said: "I thought it was a tope -- a smaller member of the shark family -- but as I reeled it closer it grew heavier all the time and after about 40 seconds I realised it was a big shark.
"I jokingly said to Wayne 'never mind the pollocks' and went into action stations."
"It was so big that it was spinning the boat around in circles. When it clearly got tired and it was safe to bring it alongside I brought it in.
"It was an enormous shark and when he swung his head from side to side his jaws opened right up showing his razor sharp teeth.
"Porbeagles don't attack humans but you can have a nasty accident with them like you can a chainsaw and it can give a hell of a bite."
The incredible catch was filmed by The Totally Awesome Fishing Show.