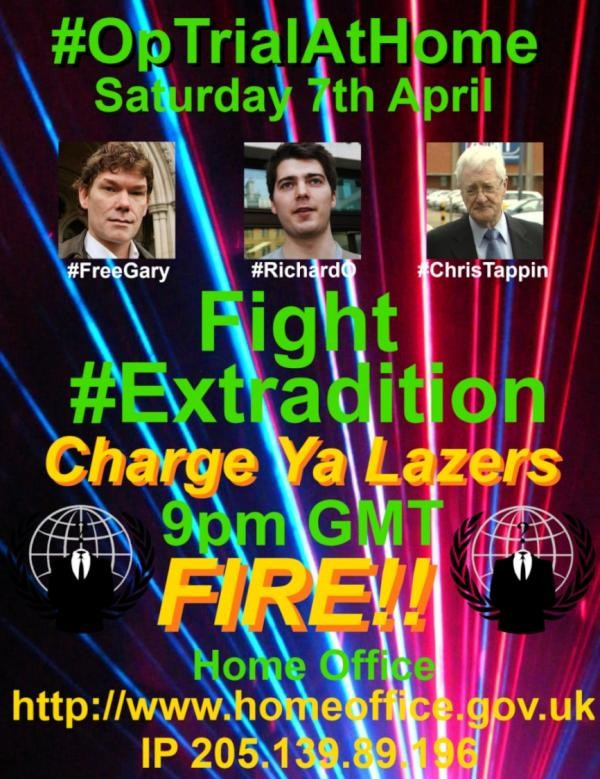 A faction of hactivist group Anonymous in the UK has invited its supporters to draw digital arms in protest against the extradition of three UK citizens to the US.
Called #OpTrialAtHome, the hacktivist group @AnonOpUK posted a warning on its Twitter page that an attack on the Home Office was planned for Saturday, 7 April.
The hack attack is in protest against European Arrest Warrants (EAW) that could lead to the extradition of Gary McKinnon, Christopher Tappin and Richard O'Dwyer to the US to face various computer crime charges.
Supporters have been invited to lodge denial-of-service attacks on the Home Office's IP address, which Anonymous has revealed.
"#OpTrialAtHome has been initiated, we are inviting every #Anon to join us in our fight against #Extradition and the #EAW," reads Anonymous's call to arms.
McKinnon, a Scottish systems administrator, was arrested in 2002 for allegedly hacking into US military and Nasa computers in 2001 and 2002 and deleting files and copying data.
Tappin, a retired British businessman, is accused by the US government of illegally exporting materials to Iran for building surface-to-air missiles.
O'Dwyer, the owner of TVShack.net, is charged with hosting copyrighted materials on his site and the US Justice Department has been seeking his extradition since May 2011.
MUST READ: MPAA, RIAA and Anonymous Team Up To Oppose Arizona's New Internet Censorship Bill