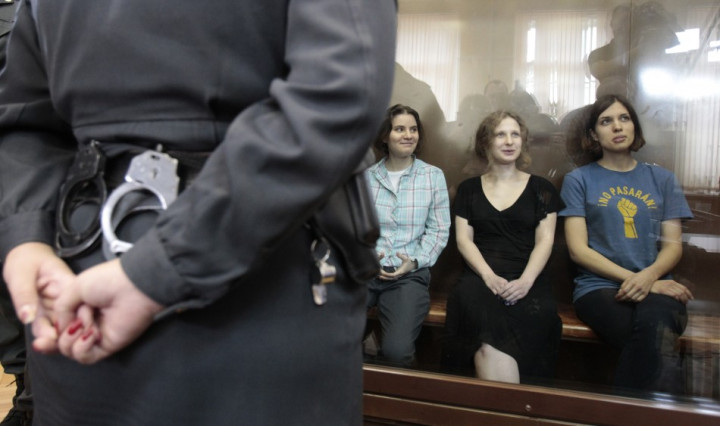 A Russian offshoot of Anonymous hacking collective has defaced the website of the Moscow court that sentenced three members of feminist punk band Pussy Riot to two years in jail for their anti-Putin song in Moscow's Christ the Saviour Cathedral.
The site of the Khamovnichesky district court was defaced with anti-Putin slogans, a video of another protest song - Putin is Lighting the Fires of the Revolution - and a clip by Bulgarian singer Azis.
The inscription on the court web page was amended to read: "Putin's thieving gang is plundering our country! Wake up, comrades!"
"We are American group Anonymous. We don't forget and we don't forgive," said the post in Russian. "Justice system has to be transparent. Pussy [Riot's members] are alive."
Darya Lyakh, a court spokeswoman, said federal investigators would look into the hacking.
Nadezhda Tolokonnikova, 23, Maria Alekhina, 24, and Yekaterina Samutsevich, 29 were found guilty of hooliganism motivated by religious hatred or hostility for their cathedral protest and sentenced to two years in prison by a Moscow court.
The US, UK and EU called the sentences disproportionate. Prosecutors had been seeking a three-year term.
A fresh criminal case into the two unknown members of the band who escaped police after the "punk prayer" in the cathedral has been launched.