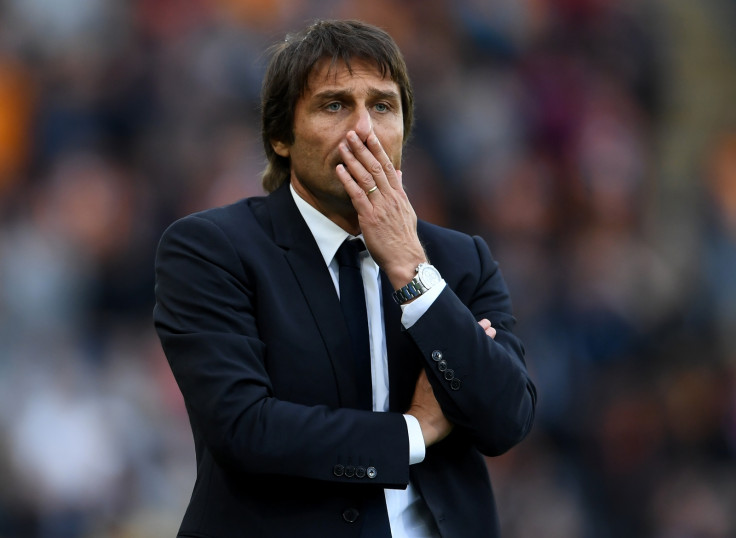 Antonio Conte has hit back at speculation suggesting Chelsea could face a points deduction for failing to control their players during the 3-1 victory over Manchester City on 3 December. The Italian boss has branded the possibility as joke following the Blues' 1-0 victory over West Bromwich on Sunday (11 December).
Players and member of the staff from both teams were involved in a massive fracas in the closing stages of the game after Sergio Aguero made a late challenge on David Luiz, with referee Anthony Taylor instantly showing the Argentinian a red card.
The FA charged both teams and the Mirror has reported that the Blues face the possibility of being docked points, as it is the fifth time in only 19 months that Chelsea have broken the rule E20 covering the behaviour of players.
But Conte has claimed a deduction would be a joke, pointing out that it was Aguero who sparked the scuffle.
"Are you joking?" Conte replied about a potential point deduction. "If you're involved in a situation and the fault is not yours, why must you pay? I don't understand. My players tried to keep the calm. We are trying to improve in all aspects. You must be honest to understand when there is a fault of one team or both teams."
"In every game you fight a lot during the 90 minutes and then when the ref blows his whistle you finish. I don't know what happened in the past but I know what's happening in the present. My players tried to keep the calm."
Meanwhile, the Chelsea boss has hailed his side's maturity as they beat a resilient West Brom thanks to Diego Costa's goal with only 14 minutes remaining.
"It was a very difficult game but we knew it would be, I spoke a lot in the week about the difficulty of the game because we faced a very tough team, very physical and difficult to break down," Conte said as his side moved back to the top of the Premier League following their ninth consecutive league victory.
"I'm pleased because we showed great maturity and intelligence to find the right solution. It's another clean sheet and now it's important to think about the next game away at Sunderland. We have only two days to prepare for the game but we must be focused, it's an important period. Christmas is very difficult for all the teams so it's important to win, be focused and play football with good intensity."