Apple's 'spaceship' campus has been delayed by a year and is expected to go $2 billion (£1.32b) over budget, as the iPhone maker negotiates with British architect Sir Norman Foster to save on costs.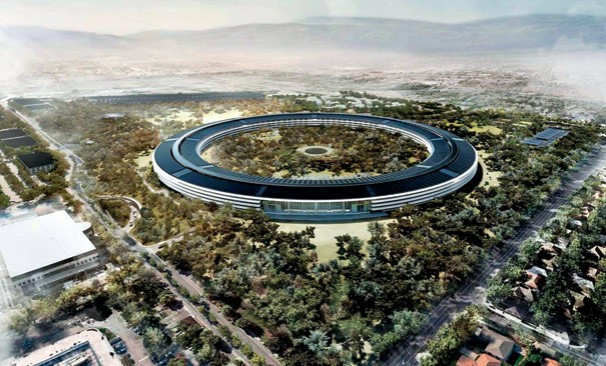 Construction on the 2.8 million square foot headquarters, known as Campus 2, was due to start last year with a completion date pegged at the end of 2015, but this has slipped a year as the original "under $3bn" budget may now exceed $5bn (£3.3bn), well above the $3.9bn being spent on the new World Trade Centre complex in New York.
The current plan is to now begin construction this June.
Apple always knew Campus 2 would be expensive, as Steve Jobs said when presenting plans of the circular building to Cupertino City Council in 2011, "there isn't a straight piece of glass on the whole building...and as you know if you build things, this isn't the cheapest way to build them."
The updated budget of $5bn comes from five Bloomberg sources who are close to the project, but are not authorised to speak on the record. Initial plans suggested a capacity of 6,000 employees at Campus 2, but this figures has also increased, up to 13,000 according to the sources.
Campus 2 is being designed by Foster + Partners, headed by renowned British architect Sir Norman Foster, who is also responsible for Wembley Stadium, London City Hall and 30 St Mary Axe, commonly known as The Gherkin.
Apple isn't just building a new headquarters, as the first job to complete this June will be to knock down 26 buildings currently on the 175-acre site and previously used by Hewlett Packard. The iPad maker then plans to add 6,000 trees and hide almost all access roads and parking space underground before the vast building can take shape.
One Bloomberg source, a former Apple manager, said excavating the site will take six months and require a continuous, 24-hour convoy of trucks to remove land.
This will make way for 15 acres of newly-planted Californian grassland with 309 different species of trees, and the centre of the circle will be home to a large courtyard with apple orchards and a herb garden for a nearby patio and canteen.

Salt in the wound for investors
An increase of $2bn may be an eye-watering figure to many, but this is just a fraction of Apple's $137bn in cash reserves. The extra spend has left some investors unhappy though, as they would rather see higher returns on their investment than a new headquarters.
Keith Goddard, chief executive of Capital Advisors, which owns more than 30,000 Apple shares, told Bloomberg: "It would take some convincing for me to understand why $5bn is the right number for a project like this.
"This is rubbing salt in the wound, to spend at a level that most anyone would say is extravagant, at a time when they're being so stingy on dividends."
Four months before his death in late 2011, Jobs told the Cupertino City Council that "the overall feeling of the place is going to be a zillion times better than it is now." To achieve this, Campus 2 has a goal of being a "net-zero energy" site, meaning it will be self-sufficient and only require power from the national grid in emergencies.
To achieve this, the donut-shaped roof will be covered in 70,000 square feet of solar panels generating enough energy to power 4,000 homes.
Mounting costs
Bloomberg's sources say Campus 2 will differ very little from Jobs's original plans, but in order to cut a claimed $1bn from the total spend, some high-end building techniques will be removed or altered.
For example, rather than cement floors Campus 2 plans mention a stone-infused alternative like terrazzo, buffed to a sheen normally seen in museums and luxury homes. Jobs also wanted the gaps between walls and other surfaces to be no more than 1/32 of an inch, far tighter than the typical 1/8 inch used in most US construction, and therefore more expensive to implement.
Another feature to be removed are Campus 2's concrete ceilings, which would have been moulded on the ground and lifted into place at huge expense - a production method far more complex than conventional tiles and said to leave one source involved with the project "speechless."