A contract which formalised the founding of Apple Computer Co is expected to bring in six figures at auction.
Ronald Wayne, the man who sold a 10 per cent stake in Apple for $800 (£500), will be hoping to make some money back by selling the original document outlining himself, Steve Jobs and Stephen Wozniak as co-founders.
Wayne received a 10 per cent share in the company when it was founded in 1976, with Steve Jobs and Steve Wozniak taking 45 per cent each, but just 11 days later Wayne produced a statement of withdrawal and left the company. His 10 per cent would now be worth nearly $3 billion.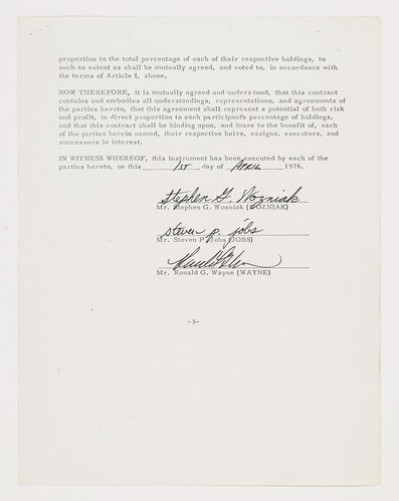 The legal documents, on which the three men signed at the birth of Apple, is being auctioned on December 13 by Sotheby's in New York, where it is expected to raise up to £100,000. An amendment dissolving Wayne's share in the company will also go under the hammer.
"This is a foundation document in terms of financial history, social history and technological history. It is the founding document of the company that has revolutionised technology, business, personal computing and the world," said Richard Austin, head of books and manuscripts at Sotheby's.
According to the official Steve Jobs biography by Walter Isaacson: "Wayne had some experience 'writing in legalese', so he composed the three-page document himself."
The document says: "Wozniak shall assume both general and major responsibility for the conduct of Electrical Engineering; Jobs shall assume general responsibility for Electrical Engineering and Marketing, and Wayne shall assume major responsibility for Mechanical Engineering and Documentation."
At the time, Wayne worked as an engineer at the computer firm Atari and had previously started a slot machine company. Owning a 10 per cent stake in Apple made Wayne a tie-breaker if Jobs and Wozniak disagreed over something.
Together with Jobs, Wayne convinced Wozniak that the circuits he was producing in his day job at Hewlett-Packard could be useful to Apple. Wayne said: "Jobs and I realized that these circuits would be the core of Apple. We spent two hours in a roundtable discussion at my apartment and I was able to get Woz to accept this."
But Wayne only lasted at Apple for 11 days before handing in his notice. "Wayne got cold feet," Isaacson wrote. "As Jobs started planning to borrow and spend more money, he [Wayne] recalled the failure of his own company. He didn't want to go through that again."
Wayne's statement of withdrawal read: "By virtue of a reassessment of understandings by and between all parties, Wayne shall hereinafter cease to function in the status of 'Partner'." The letter added that he would receive $800, shortly followed by a further $1,500.
Wayne went on to live in a small house, live off his social security check and play the penny slot machines. He later said he had no regrets: "I made the best decision for me at the time. Both of them were real whirlwinds and I knew my stomach and it wasn't ready for such a ride."