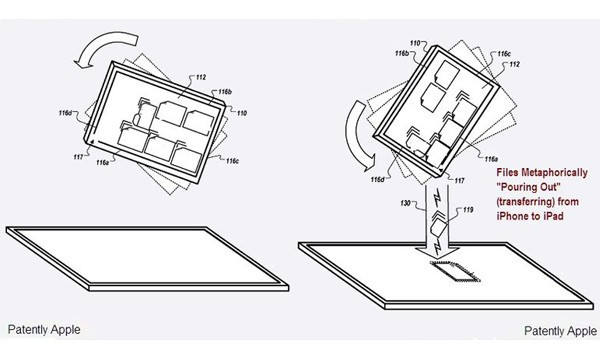 Newly discovered Apple patents indicate that in the future iOS devices including the iPad and iPhone could transfer files between devices using gesture commands.
The new Apple patents were first discovered by Patently Apple. They showcase tech plans to increase the integration levels between devices running Apple's iOS operating system.
The key patent reported on showed that Apple is currently in the midst of developing software to allow iOS users to literally slide, push, flick and even pour files from one device to another.
A second interesting patent reported by Patently Apple concerns iOS devices ability to recognise and react to 3D gestures. The patent indicated that Apple engineers are currently in the process of upgrading the devices to be able to track their user's movement in 3D.
This would mean that user's would be able to create 3D shapes on the device. A report from CNET suggested that the move may be implemented to allow game developers and CAD designers to edit and manipulate 3D models on the device.
As always Apple declined to offer any official word regarding its plans for the new patents.