iPad 4 Announced by Apple, With A6X Processor, Lightning and 4G From EE
Apple has announced the fourth generation iPad, with an A6X processor, next generation image processing, ten hour battery life, new HD front camera and expanded 4G connectivity.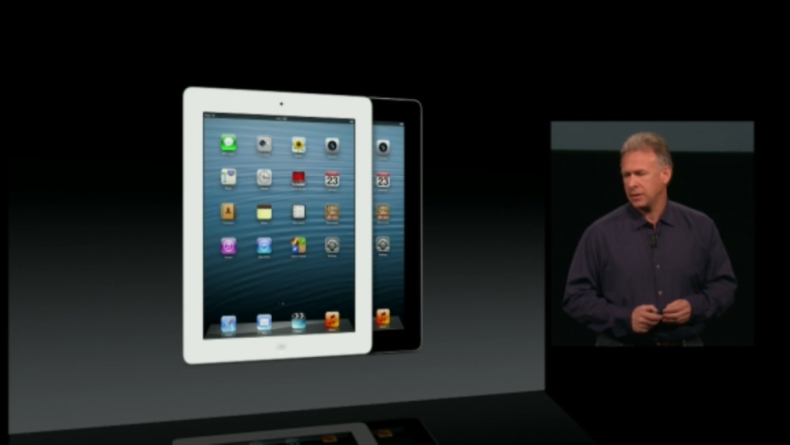 Launching alongside the new iPad mini, the larger iPad features an A6X processor which Apple claims doubles CPU tasks and graphics performance from the iPad 3, and the improved LTE chip means it will work with EE's new 4G network.
An updated LTE 4G chip means that the new iPad will work on EE's 4G network when it is turned on in the UK on 30 October, and the new iPad of course includes the Lightning port, first seen on the iPhone 5.
Storage options remain at 16GB/32GB/64GB and the prices for both the Wi-Fi-only and Wi-Fi +4G models remains unchanged, starting at £399 in the UK.
Although the third generation iPad is only eight months old, Apple felt that it was necessary to release a new update mid-cycle to keep the iPad ahead of growing competition from Google and Amazon.
Now that all of Apple's mobile devices (apart from the iPod shuffle and classic) use Lightning, third party case and accessory manufacturers will be encouraged to incorporate the new, smaller port into their future products.
Apple has also given the iPad a 1800MHz band, so it can be used with EE's 4G networks, which will launch in the UK on 30 October, bringing much faster mobile internet than what is currently available through 3G.
As EE's 4G network is the only one in the UK to run on the 1800MHz band, the updated iPad will not work on 4G networks from Vodafone and O2, which are due to be launched in the middle of 2013.
By then, though, we will be expecting a major update to the iPad, which will hopefully include further updated hardware to work on the 800MHz and 2100MHz bands to be auctioned off to Vodafone and O2 next year.
EE announced the prices for it 4G network earlier today, with the cheapest tariff offering unlimited calls and texts, and 500MB of data for £36 per month, while the options go up to unlimited calls and texts with 8GB of data for £56 a month.
Must Read: