Apple can longer describe the new iPad as having 4G functionality in the UK after concerns raised by the Advertising Standards Authority.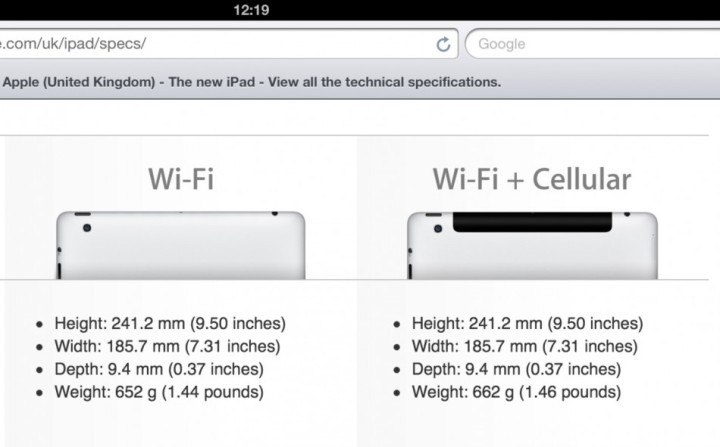 Despite being 4G-capable in the US and Canada, the new iPad - which we reviewed back in March - does not support super-fast 4G networking in the UK, despite Apple using the term in its marketing.
As a result, the iPad Wi-Fi + 4G is now known in the UK as iPad Wi-Fi + Cellular, as it can only operate on slower 3G networks.
In a statement sent to IBTimes UK, the ASA said: "We have been working closely with Apple to address consumer concerns about its 4G claims for the new iPad.
We've welcomed the co-operation Apple has shown so far in responding to our enquiries and we are aware that Apple has taken steps to amend those claims. We will be checking the amendments to ensure they adhere to the Advertising Code."
Apple contacted IBTimes UK, saying: "The new iPad supports many high speed networks around the world, including LTE in the US and Canada and HSPA+ and DC-HSDPA in many countries.
"Carriers do not all refer to their high speed networks with the same terminology, therefore we've decided to use "Wi-Fi + Cellular" as a simple term which describes all the high speed networks supported by the new iPad. The advanced wireless features of the new iPad have not changed."
Fourth generation mobile networks - almost all of which use a technology known as long term evolution, or LTE for short - will be available in the UK in the coming years, with trials already being conducted in London, but the current iPad will not work on the UK's future 4G networks, due to a difference in radio frequencies between here and the US.
Instead of referring to 4G, Apple now states that the iPad "connects to the internet over Wi-Fi and fast mobile data networks."
However, the 4G name remains in Apple's French, Spanish, Italian and German online stores, despite true 4G only being available on the A&T and Verizon in America, and Bell, Rogers and Telus in Canada.