The standard for the next generation of SIM cards is just days from being finalised and could be debuted on next year's iPhone, after Apple modified the design to address complaints made by Nokia.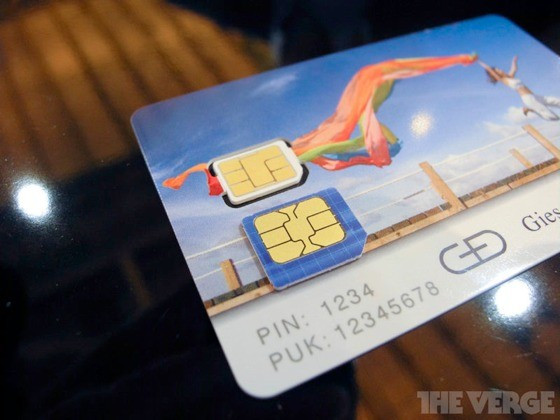 Called the nano-SIM and featuring a form factor even smaller than the Micro SIM cards currently used in smartphones like the iPhone, Lumia 800, HTC One X and up-coming Samsung Galaxy S3, use of the '4FF' nano-SIM standard is being voted on until mid-May.
If approved, the nano-SIM design could be seen in smartphones and tablets as soon as next year, with Giesecke & Devrient - one of the companies producing the new SIM cards, and producer of the original SIM back in 1991 - telling The Verge that "adoption [of the new SIM design] is being driven by a supplier." This supplier is presumed to be Apple.
Giesecke & Devrient is currently showcasing the Apple-designed 4FF nano-SIM standard at the CTIA Wireless show in New Orleans, while a nano-SIM standard designed by Nokia is not on display, despite also being produced by Giesecke & Devrient.
The Verge suggests that "the presence of Apple's design signals that [G&D] will almost certainly put their votes in that direction and away from Nokia's more radical design that limits backward compatibility with micro-SIM and mini-SIM slots on older phones."
Nokia's design has more in common with a microSD card than the current Micro SIM and a notch on the design (below) would suggest that the Nokia design could be easily slotted into the side of a phone.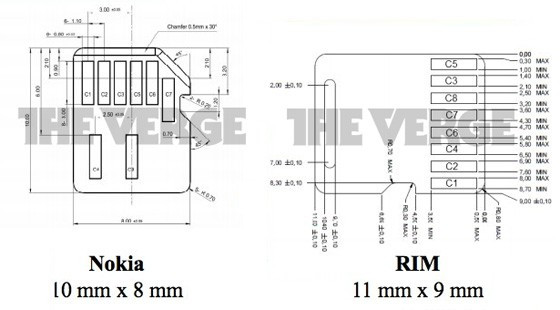 A vote on the nano-SIM standard should have taken place in March, but was delayed after Nokia said that it was not happy with Apple's design.
The Finnish phone manufacturer claimed that the nano-SIM should be designed in such a way that it cannot be accidentally inserted sideways into a micro-SIM slot.
G&D has now said that Apple has altered its design by adding some plastic either side of the contact points, making the nano-SIM long enough so that it cannot be forced into the wrong SIM card slot, and getting stuck.
This does mean, however, that Apple's new nano-SIM design is slightly larger than planned and not much smaller than the Micro SIM which it is intended to replace, therefore saving only a very small amount of space inside future compatible smartphones.
To help speed up agreement on the nano-SIM standard, Apple has offered a royalty-free patent license to its design to try and encourage other handset manufacturers to adopt it.
Finally, G&D sounds confident that the nano-SIM standard will be rolled out in new devices quickly, adding that "we'll see a product very soon after ratification."