OS X Mavericks, the newest update for the Mac operating system, is available to download from 22 October for free, Apple revealed at a media event in San Francisco.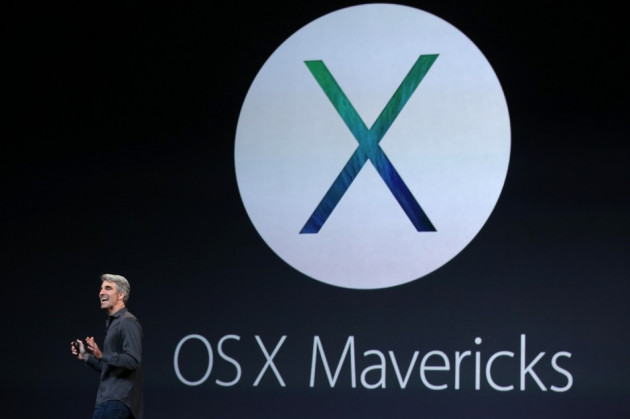 Described as a "new era for the Mac", Mavericks will be a free download for users who have a compatible MacBook, iMac or Mac Mini.
Mavericks is compatible with the following Macs:
MacBook (13in aluminium from late 2008, or 13in plastic model from early 2009 or later)
MacBook Pro (13in, mid-2009 or later), (15in, late 2007 or later), (17in, late 2007 or later)
MacBook Air (late 2008 or later)
Mac Mini (early 2009 or later)
Mac Pro (early 2008 or later)
The new operating system, which replaces the year-old OS X Mountain Lion, was first announced at Apple's WorldWide Developer Conference in June, and features a number of changes to bring the Mac's user interface closer visually to that of the iPhone and iPad.
Mavericks, which can be installed on any Mac that has previously used either Lion or Mountain Lion, brings iBooks and Maps to the Mac as stand-alone applications which sync with iOS devices owned by the same user.
Maps performs much as it does on the iPhone or iPad, complete with driving and walking directions, and 'Fly Over' 3D imaging of buildings.
Craig Federighi, Apple's head of software engineering, said: "Mavericks is an incredible release, which introduces significant new apps and features, while also improving the performance and battery life of your Mac,"
"We want every Mac user to experience the latest features, the most advanced technologies, and the strongest security. We believe the best way to do this is to begin a new era of personal computing software where OS upgrades are free."
Notifications
Building on what was already available from some apps like Mail and Twitter in older versions of OS X, Mavericks now supports notifications from websites - offering news and sport updates, for example - along with Facetime and iMessage conversations; the latter can be replied to from within the notification bubble itself to save opening the iMessage app itself.
Apple claims installing Mavericks will boost the battery life of MacBooks running it, citing a boost of 1.5 hours for the newest 13in MacBook Air.
Design change
Following the dramatic visual shift from iOS 6 to iOS 7 on Apple's mobile devices, OS X has seen a similar facelift. Skeuomorphic design and real-world metaphors - such as yellow paper in Notes and leather in Calendar - have been replaced with a simpler, flatter design with a stronger emphasis on shades of colour than textures.
Mavericks is the 10th update to Apple's OS X operating system, and having previously been named after big cats, the company has moved to borrowing the names of major landmarks from its home state of California - Mavericks is a surfing hotspot in the north of the state.
In a bid to make navigating around OS X and finding saved documents easier, Mavericks introduces tabbed browsing to the Finder app. Similar to browsing the web, multiple tabs can be open in the same Finder window; say you wanted to move files from one folder to another, you can now drag and drop them between tabs of one Finder window, instead of filling your screen with several open windows.
In the updated Safari web browser, users can see a feed of links published by people they follow on Twitter and LinkedIn.
Multi-screen improvements
Another way Mavericks makes navigation easier is improved multi-screen support. Now each display can be controlled entirely independently, so an app can run full screen one one, while you still have full access to your desktop and dock on the other. The dock and menu bar can also be accessed on either screen, where before you had to choose to display the items on one or the other.
Also new to Mavericks is iCloud Keychain, which syncs website usernames and passwords, as well as banking details and Wi-Fi passwords across your Mac and iOS devices, so you need never remember them again.
IBTimes UK will be publishing our review of OS X Mavericks in the coming weeks.
Read More: