Both Samsung and Apple have been found guilty of infringing each other's patents on their smartphones and tablets by a South Korean court.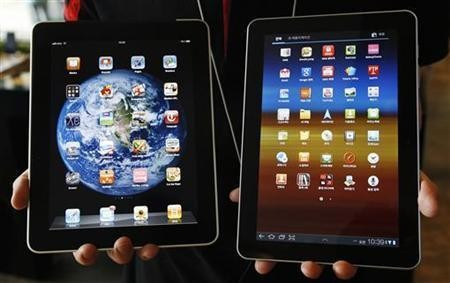 Unrelated to the current US battle the two tech giants are waging, the Korean ruling means that a number of devices made by both manufacturers will be withdrawn from sale in the country.
These include Apple's iPhone 3GS, iPhone 4, original iPad and iPad 2, as well as Samsung's Galaxy S1 and S2 smartphones, and its Galaxy Tab and Galaxy Tab 10.1 tablets.
The court ordered Apple to pay Samsung 40m won (£22,000) in damages, while the South Korean company must pay the iPhone maker 25m won - both tiny compared to the $2.5bn Apple is seeking from Samsung in the US court battle.
It was decided that Apple had infringed two patents held by Samsung, while the Korean manufacturer had infringed Apple's "bounce back" function, which shows a user he or she has reached the end of a page scrolling up or down.
Apple was found guilty of infringing Samsung's patents relating to how devices connect to the 3G cellular network, including how they send and receive data more efficiently.
In the California case, Apple is accusing Samsung of infringing more of its patents and copying the design and "trade dress" of its iPhone and iPad with various Galaxy smartphones and tablets.
In the US, where the trial has got to jury deliberation stage, Apple is claiming $2.5bn (£1.6bn) in damages from Samsung for copying its designs and the iPhone maker also wants a sales ban on all Samsung products found by the jury to have copied Apple.
Samsung claims this is not true, and alleges that Apple did not licence key wireless technology to which Samsung owns the patents; these technologies feature in the iPhone and 3G/4G versions of the iPad.