Apple's share price has dropped by 3.8 percent despite the record-breaking launch of the new iPhone 5 in China, with the company selling more than two million units in its first weekend on sale.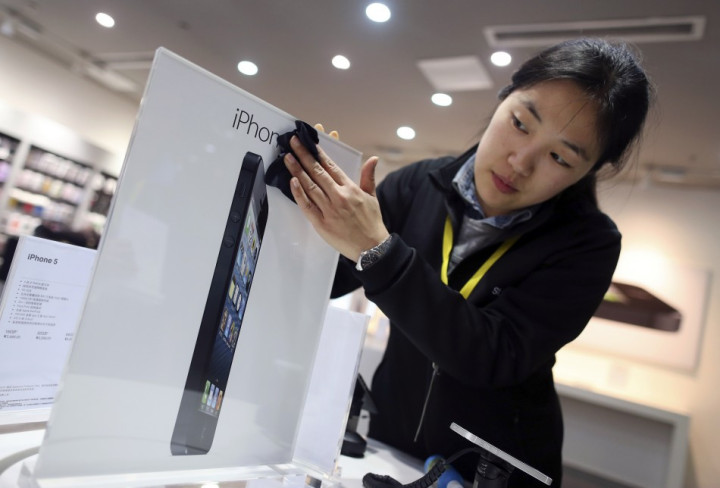 More than two million iPhone 5s have been sold in China since Friday, 14 December, marking the most successful iPhone rollout in the country ever. Despite this, Apple stock has dropped to $509.79 (£314.90) per share, a decrease of more than 30 percent from the company's record high of $705.07 (£436.10) in September.
Investment analysts Citi Research downgraded Apple's stock from "neutral" to "buy", citing diminishing hype around the iPhone 5 and improving competition in smartphones. Despite this, Apple CEO Tim Cook was extremely positive about the iPhone 5's launch in China:
"Customer response to iPhone 5 in China has been incredible, setting a new record with the best first weekend sales ever in China," announced Cook in a statement. "China is a very important market for us and customers there cannot wait to get their hands on Apple products."
The two million figure will be a surprise to many after reports on Friday suggested there was a lack of queues outside Apple stores ahead of the launch, however mobile operators China Unicom and China Telecom, reported busy weekends as people signed up for new contracts.
However, Apple's position as a smartphone provider in China remains uncertain as it faces stiff competition from cheaper, Android-based handsets. Apple is also missing a partnership with China's biggest mobile service provider, China Mobile, which has more than 700 million subscribers and recently formed a deal with Nokia to sell the Lumia 920T.
According to IDC, the company slipped to sixth position in China among smartphone manufacturers in the third quarter of 2012, with South Korean rival Samsung taking top spot. AS well as competition from Samsung, Apple is struggling to compete with cheaper Android smartphones from the likes of ZTE, Huawei and Lenovo - all based in China.
"Apple's market share declined because of the transition between the iPhone 4S and 5," explained Normua analyst Huang Leping ahead of the iPhone 5's Chinese launch. "Their market share will recover [with the iPhone 5], but if you don't have China Mobile, the significant market share gains will be very difficult."
Regardless of Apple's relationship with China Mobile, China remains one of the company's most promising markets, currently accounting for 15 percent of overall Apple revenue.
Analysts at Stifel Nicolaus expect Apple to ship 49 million iPhones globally this quarter. Apple says the iPhone 5 will be available in more than 100 countries by the end of December - its fastest ever iPhone rollout.