Most analysts seem to agree that Apple's television set will be arriving sometime this year. However, Asian research group CLSA, in a research note, claims the television will not actually debut before 2013, according to a Business Insider report.
However, the group does reiterate that television hardware from Apple is on its way, citing Foxconn's decision to invest in Sharp electronics. It is expected that the Apple TV will use display panels made by the Japanese company.
Here is the full text of the CLSA Note:
"We continue to view Apple TV hardware as a 2013 event. The timing of Hon Hai/Foxconn's equity stake and partnership with Sharp along with Hon Hai Chairman Terry Gou's separate 46.5% investment in Sharp's Sakai City plant lends further credibility that Apple TV is in the works. This also follows reports that Apple is investing ~$1.3bn in equipment destined for Sharp facilities. The fact that Hon Hai is investing rather than just procuring panels from Sharp underscores a deeper level of integration which Apple/Hon Hai are accustomed to, increased reliability as Sharp has struggled with iPad3 qualification, and an effort to improve Sharp's financial position before becoming a more meaningful supplier to Apple. We also believe Corning has an 83% market share at the Sakai facility and would ultimately benefit from improving utilization that is expected to happen over time. Sharp accounted for 10% of Corning's overall sales and 25% of its display sales in 2011. Most clients agree that a TV is coming; the critical question becomes how the video providers fit into the equation and how apple's offering would/could differ from current tv's beyond ios/icloud."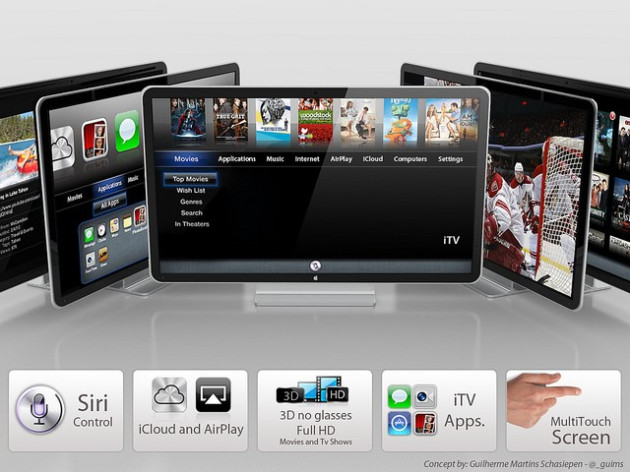 Apple iTV Rumours:
There were rumours earlier, in January, concerning a 50in Apple TV and by the end of January, there were reports of Apple having spoken to major TV component suppliers, says a CNET report.
"I do expect Apple to make an attempt [to get into the TV set business], since I expect the living room to remain a centre for family entertainment, and that touches on all areas of consumer products that Apple is already making," Apple co-founder, Steve Wozniak, was quoted as saying to USA Today, in January.