With Apple's Worldwide Developers' Conference (WWDC) kicking off on 11 June, we take a look ahead at what the Cupertino company has in store for us, from iOS 6 and Mountain Lion, to Retina Macs and the elusive iPhone 5.
Starting on 11 June at the Moscone West centre, WWDC will run for five days and give developers for OS X and iOS the chance to learn about news features for the operating systems and attend more than 100 sessions presented by Apple engineers.
But the main event will be a keynote presented by CEO Tim Cook, along with other Apple staff working on the next-generation of mobile and desktop Mac operating systems.
OS X 10.8 Mountain Lion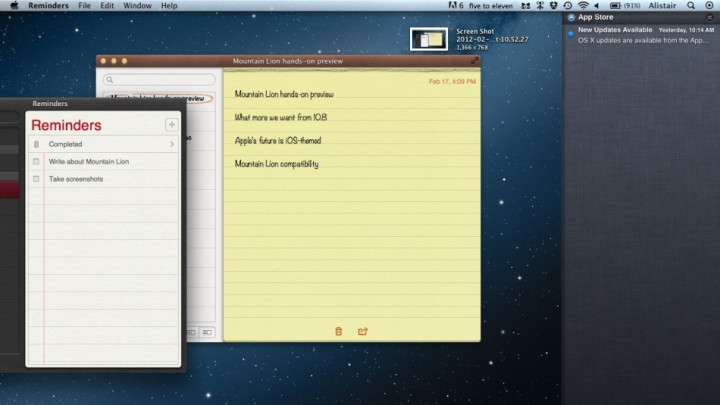 Following in the footsteps of Lion, the newest Mac operating system has been available to developers as a preview for some time and has a summer release date, so we're expecting Apple to give the newest big cat a specific shipping date.
We went hands-on with Mountain Lion back in February and we'll be sure to post a full in-depth review before WWDC. The new OS features the addition of Game Centre, Notes and Reminders, which have all been ported over from the iPad, along with a notifications system that looks just like its iOS cousin.
This is no bad thing, and shows that Apple's future is set on unifying the desktop and mobile user interfaces, creating familiarity across a range of products from the iPhone and iPad, up to the MacBooks and iMacs.
Apple has taken the dated iChat application and given it an overhaul and a new name. Now called Messages, the Mountain Lion app syncs up with iMessage on the iPhone, iPad and iPod touch.
Messages can be sent between Macs and iOS devices - these include text, images, video and invitations to start a FaceTime conversation. Messages also includes delivery receipts and an icon to show when someone is typing a message to you.
From what we've seen, we're expecting Mountain Lion to be more evolutionary than revolutionary, offering a decent upgrade to Lion and bringing a selection of new features, although there's nothing ground breaking here. As such, Apple will probably charge a knock-down price for Mountain Lion. Expect it to cost around £30 for users upgrading from Lion - just as Snow Leopard did for those upgrading from Leopard.
iCloud photo sharing
The most recent speculation is regarding iCloud, which - according to "people familiar with the matter" - will soon get a photo sharing function. Currently, users can only sync one set of photos to iCloud through Photo Stream, which is designed to upload photos taken on a user's iPhone or iPad, and send them to all of the user's devices via the cloud.
The Wall Street Journal believes that users will soon be able to share photos on iCloud, and comment on images uploaded by their friends, adding a social element to what was previously a personal space for email, calendars and contacts. There is also expected to be integration with the Notes and Reminders apps.
iOS 6
Our iOS 5 review was one of the most popular stories of 2011 for IBTimes UK, and we're expecting the same story with iOS 6 when it lands towards the end of the year. Each year Apple releases a whole new mobile operating system with a couple of major new features, and for iOS 6 it seems that 3D maps and Siri APIs will be the highlights.
Since the iPhone was launched in 2007 Apple has used maps provided by Google, but that looks set to change, as talk of Apple's own 3D maps is circling the rumour mills, and there's plenty of evidence to back it up.
Apple's plans to take over the world - or at least maps of the world, anyway - started in 2009 when it bought Google Maps rival Placebase, followed by the purchase of another mapping company, Poly9, in 2010 and Swedish 3D maps company C3 Technologies in 2011.
C3 Technology's 3D mapping was shown off at CES in January, 2011, where the company announced than an SDK, or software development kit, would be made available for developers to include the maps in their own applications.
After the new iPad was released it was found that Apple used maps supplied by OpenStreetMap Foundation in the iPhoto app for iOS, on which users could pin photos based on where they were taken.
Siri was launched as a beta with the iPhone 4S late last year and, while initially impressed, we felt let down because the voice-activated personal assistant cannot provide location-based information, like driving directions, outside of the US.
We've heard whispers of Apple working with mapping companies here in the UK, so hopefully iOS 6 will bring location data to Siri in the UK and Europe, but don't expect the next operating system to arrive until October or November, along with the new iPhone.
Along with location data for the UK, iOS 6 may also feature Siri APIs (application programming interface) that will allow developers to use Siri within their own applications.
This opens the door for sat-nav developers like TomTom to include voice control, and for a whole market of dictation and translation apps to appear.
MacBook Pro with Retina display

Apple doesn't always debut hardware at WWDC, but with less than a month to go, and with speculation of a range of new MacBook Pros growing, it seems sensible to add the two together.
Bloomberg announced on 15 May that Apple is preparing a new range of MacBook Pros that are thinner and more powerful than the current models, and will feature a super-high resolution Retina display and Intel's latest Ivy Bridge processors.
We expect to see the new range of MacBooks soon after the 11 June keynote, along with a developer preview of iOS 6 and the retail version of Mountain Lion. We're not expecting iOS 6 to be released until the autumn, along with a new iPhone.
Excitement for Apple announcements is always huge, but with WWDC tickets selling out in just two hours, the 2012 event is set to be bigger than ever.