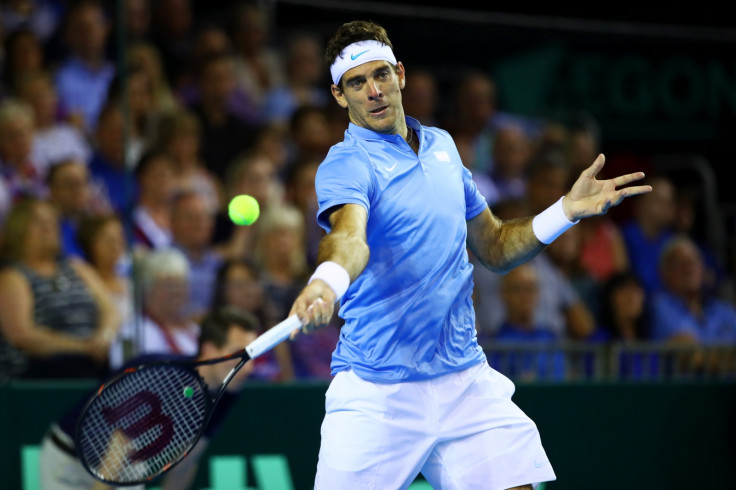 Juan Martin del Potro has given Argentina a 1-0 lead in their Davis Cup semi-final clash against Great Britain after winning a titanic contest against Andy Murray (4-6 7-5 7-6 (7-5) 3-6 4-6) in Glasgow. The 27-year-old right-hander produced an inspired performance to edge out Murray in a see-sawing five-set match that lasted more than five hours.
Murray – who recently retained his Olympic title in Rio by defeating Del Potro is another dramatic match – started the contest in eye-catching fashion, rushing into a two-game lead. But the plucky Argentine, who is working his way back up the world rankings following a serious wrist injury, bounced back in emphatic style to take the first set 6-4.
Murray – the current world number two – did not allow that setback to disrupt his gameplan and took both of the next two sets by producing some brilliant, pinpoint tennis in a match that was fast becoming a Davis Cup classic. The Scot took a tension-filled third set tie-break 7-5 to give himself a significant advantage in the contest.
Del Potro, though, refused to give in and he broke Murray's serve two times in the fourth set, while his opponent was becoming increasingly troubled by a bout of cramp in his right leg. The Brit was noticeably frustrated by his failing body and was constantly talking to himself between points as the fourth set slipped away.
Del Potro appeared to have all of the momentum heading into the deciding set – and despite a gallant effort from Murray, it was the imposing Argentine who ultimately triumphed. Del Potro produced a stunning forehand winner in the seventh game of the set to put himself ahead in the match and he managed to serve for victory.
"This is very important to me and my team and we are looking to reach another final in the Davis Cup," the injury-prone Argentine subsequently told the BBC. "Against Andy you never know when the match will finish. He is a dangerous player, a fighter and great champion. In end I played good forehands and good serves and that was key.
"I am so happy to be playing tennis again after three surgeries. This kind of moment was what I was missing at home and I always play good in Great Britain and here I played great so it is a good place for my tennis."