Well that was certainly a surprise. ARM Holdings, the largest technology company listed in the UK, is to be taken over by Japan's Softbank for £24.3 billion in cash, or 1700p in cash per share.
That represents a whopping 43% more than ARM shares were worth on Friday night, a sizeable takeover premium for ARM shareholders to enjoy.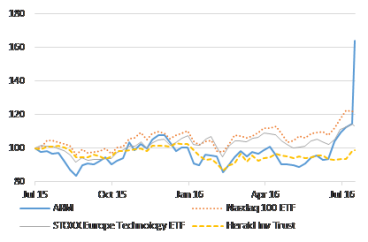 Now, I should be quick to note that ARM Holdings is an exceptional company based in Cambridge that grew initially out of Acorn Computer, the company that made the BBC Micro home computer familiar to British schoolchildren of the 1980s.
The majority of the world's Apple and Android-based smartphones in use today employ ARM semiconductor chip designs, which allow these smartphones to use very powerful microprocessor "brains" at relatively lower power consumption levels.
As a result of this takeover bid, ARM's share price has predictably shot up and outperformed other technology companies (See Chart1).
Tech companies worldwide have done well, albeit not as well as ARM
Judged in pound sterling terms, your money would have been well-invested in US technology companies via the Nasdaq index, or in European technology companies via the STOXX Europe technology index, over the past year.
The Powershares Nasdaq 100 index ETF (UK code: EQQQ) has risen 22% since July 2015, while the iShares STOXX Europe Technology ETF (code: SX8PEX) has gained 14% in pound terms over the same period.
Given the strong record of growth in this sector, and the seemingly insatiable demand of consumers and businesses for newer technology products of all types, this sector looks likely to continue to perform well in the months and years ahead.
Which UK tech companies could be interesting?
Aside from ARM Holdings, there are not many large UK tech companies left in which you can still buy shares. Many of these companies, like ARM, have been taken over by foreign counterparts over the years.
Two software companies, Micro Focus (UK code: MCRO) and Sage (code: SGE), have performed far better than the FTSE 100 index over the past year, up 35% and 32% respectively (see Chart 2).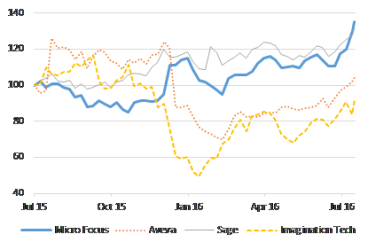 Another two other UK tech companies, Aveva (code: AVV) and Imagination Technologies (code: IMG) have fared less well since July 2015, beset by company-specific problems that have weighed on expected profits.
Those looking for the next potential technology takeover targets could do worse than look at Micro Focus or Sage. Micro Focus in particular could interest US software companies, given the large share of its business that it already does Stateside.
Why not just buy a Technology fund?
If you would rather not delve into individual technology company shares, but would rather just buy one technology fund with broad-based exposure to this growth theme, then there are a few to choose from in the UK.
The first two of these technology investment trusts (which are just stock market-listed funds), Polar Capital Technology (code: PCT) and the Allianz Technology Trust (code: ATT) have gained 15% and 13% respectively over the past year (see Chart 3).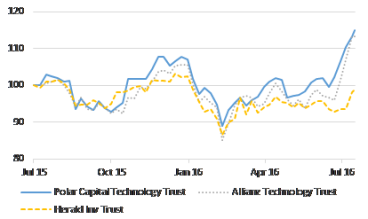 Both funds take broad-based exposure to technology companies around the world, and thus have the majority of their assets invested in US tech companies like Amazon, Alphabet (Google), Facebook and Microsoft.
The third technology-focused fund, the Herald Investment Trust (code: HRI), has not done as well, flat over the last year. A key reason for this is that the Herald trust invests mostly in smaller UK-based technology and media companies rather than large US tech giants.
Smaller UK companies in general have under-performed the large-cap FTSE 100 index, so it is perhaps unsurprising to see the Herald Investment Trust also under-performing. Today the Herald trust sits at a 22% discount to its net assets; that is to say, you can buy £1 of assets in smaller IT and media companies via HRI for just 78p. Could be a bargain.
So there you have it: several ways that an investor could buy into technology companies, either in the UK or globally.