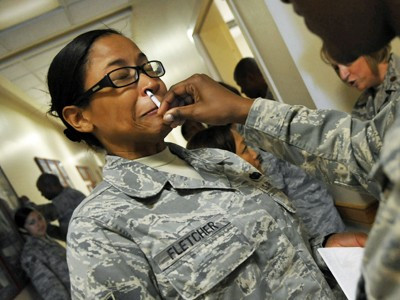 The US army is planning to use a nose spray to tackle the increasingly high suicide rate among its soldiers.
The Pentagon has invested $3m in a research project at the University of Indiana's School of Medicine to develop a medical solution to prevent depressed soldiers to kill themselves, as soldiers' suicide number soared this year.
"Suicide is the toughest enemy I have faced in my 37 years in the Army," said Gen. Lloyd J. Austin III, Vice Chief of Staff of the Army.
"That said, I do believe suicide is preventable. To combat it effectively will require sophisticated solutions aimed at helping individuals to build resiliency and strengthen their life coping skills," the general said presenting July 2012 US soldiers' suicide data.
With 38 confirmed deaths, more than one a day, July was the deadliest month in the US army history in terms of soldiers killing themselves.
The number brought the total amount of suicides among active-duty soldiers up to 116 in 2012.
US soldiers commit suicide at a rate that is almost 40 per cent higher than that of civilians in the same age band, USA Today reported.
A snort of an anti-suicide solution could slash these numbers, according to Dr. Michael Kubek, the associate professor of neurobiology at Indiana University, who leads the research project.
The chemical compost would be based on a thyrotropin-releasing hormone (TRH), which is capable of alleviate suicidal urges, depression, and bipolar disorder once entered in contact with the brain.
"We've known since the 1970s that TRH has antidepressant effects, and it works quite rapidly. The bottom-line problem has been figuring out how to get it into the brain," Kubek told The Daily.
If successfully tested, the medicine wouldn't replace traditional antidepressant but will work as an emergency tool, to use during moments of crisis or in the wait for other medicine to produce their long-term effect.
"The phase directly after starting an antidepressant is very vulnerable time frame in a patient's life. The nasal spray would stabilize them right away, while they wait for the [antidepressants] to do their job," Kubek said.
"This is far from a soldiers-only solution. Potentially, if this works, we have an entirely new type of pharmacology," he concluded.