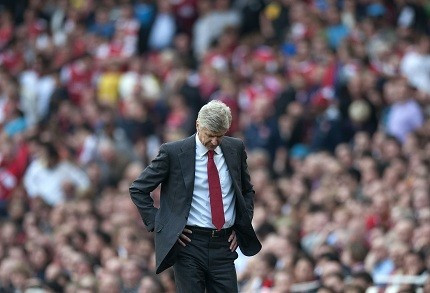 Arsenal returned to winning ways against Swansea on Saturday after goalkeeper Michael Vorm's error gifted Andrey Arshavin the only goal in a fraught encounter at the Emirates.
Arsene Wenger handed debuts to deadline day signings Per Mertesacker and Mikel Arteta but a laboured performance highlighted the recovery work still required at the Emirates. Following the 8-2 defeat at Old Trafford in their last match Wenger was grateful to see his side record their first victory of the new campaign but Vorm's blunder masked an otherwise insipid display.
The goal arrived in the 41st minute when Vorm collected a wayward Theo Walcott shot out on the right edge of the area. The Swansea goalkeeper, in attempting to roll the ball to Angel Rangel, only managed to hit the defender's heel with the rebound falling into Arshavin's path; from a tight angle the Russian swept the ball into the unguarded net
And Wenger admitted his team had received a huge slice of fortune with the manner of victory.
"There was an element of luck about our goal," he said.
With Yossi Benayoun also making his debut from the bench Wenger was pleased with his side's performance ahead of this week's Champions League trip to Dortmund.
"We know that the confidence goes quickly and comes back slowly and for us, to be in the situation we were in, we are not used to that," he said.
"We will come back when you look at the fact we had no Gervinho, no Song, no Diaby, no Wilshire. We now have a decent squad and when everybody is back we have a chance. But we need first to put a few wins together."
Wenger was satisfied with the performances of Mertesacker and Arteta and believes the new signings will strengthen the squad as the season progresses.
"Mertesacker was calm and composed," Wenger said. "Of course he leads the line well. He needs to adapt to the pace of the game but he is very intelligent in his positioning.
"Arteta played well overall, especially in the first half. You can see he will bring us some technical security that we need. He will fit in the team well."