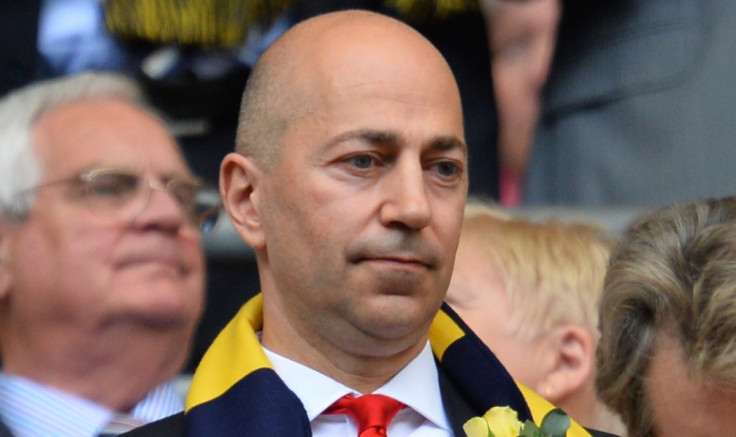 Arsenal will conduct a thorough review into their transfer activity during the summer, but chief executive Ivan Gazidis backed manager Arsene Wenger's decision to not to sign an outfield player during the off-season. Petr Cech was the sole arrival before the start of the 2015-16 campaign, which has already seen the club lose twice in the Premier League and face a group-stage exit from the Champions League.
The Gunners were the only club inside the top five divisions in Europe not to sign an outfield player during the summer. Wenger was subject of intense criticism over the decision, which was scrutinised further after the club revealed cash reserves of close to £200m ($309m) in their latest accounts, released in September.
Gazidis and Wenger were questioned heavily over Arsenal's approach in the transfer window during the club's annual general meeting (AGM), with both men highlighting the club's increased spending, in the form of Mesut Ozil and Alexis Sanchez, since recovering financially from their move to the Emirates Stadium in 2006. Despite defending Wenger's record in the mercato, describing the Frenchman as having an "outstanding record in identifying and developing talent", Gazidis admitted their strategy will be reviewed.
"We have been very active in the transfer market in recent seasons, transforming, rejuvenating and reinventing our squad in the process," the Arsenal CEO said during his opening speech. "We have a relatively young, very talented and very deep squad to take us into this season.
"A successful transfer strategy is the example of preparation, experience and judgement. All transfers are ultimately football decisions and this are made by our manager, who has an outstanding record in identifying and developing talent and also importantly of thinking strategically on behalf of the club.
"We have consistently strengthened our squad in recent seasons with the objective of assembling a group of players with the talent and depth to contend for the Premier League title. We have had the support of Mr Kroenke and our whole board the whole way with that footballing objective in mind.
"There are many recent examples in the transfer market of how easy it is to squander money to little effect. We have been disciplined in our strategy of being talent-led, not money-led."
"We have only added players because they add something tangible to our squad, not simply because we have money available to spend. Our record in the transfer market compares favourably with any other competitive club in recent years.
"That ambition and transfers were supported and encouraged by our board who made the funds available without any hesitation when the opportunity arose. I make no apology when I say we are in a strong financial position to invest further in players who we believe in but we will not spend money for the sake of it or to appease commentators."
The Arsenal board were questioned further over the club's priorities in the window, with particular reference to the failure to sign a striker. Real Madrid forward Karim Benzema was heavily linked with a move but no deal came to fruition.
"We have to keep our approach under review," Gazidis admitted. "We are always asking ourselves questions about what we can do better to make ourselves more successful.
"We have to be smarter and work more intelligently than our wealthier competitors but spending money simply because it [is there] is not a wise investment strategy if it involves compromising on quality. Compromising on quality means comprising on ambition.
"As we strengthen the squad the market of players that can improve it becomes smaller; it is always harder to find the final 5%. We are well placed to make further additions as we go forward."