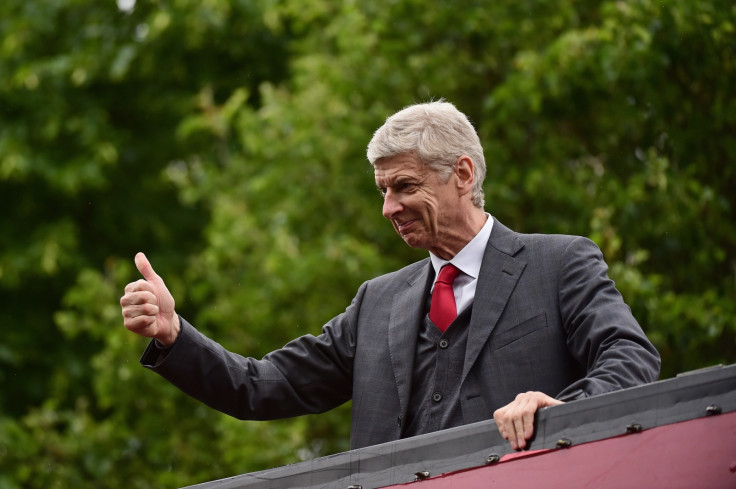 Arsenal manager Arsene Wenger has insisted that signing Karim Benzema from Real Madrid does not guarantee the Premier League title this season, but maintains that it is important to have a top quality striker in the team.
The French manager was reacting to former striker Thierry Henry's comments, when he suggested that signing the Spanish capital club's forward can take the Gunners to the title this season.
The 12-time FA Cup champions have been linked with a move for the French international in recent weeks, with a Daily Mail report suggesting that Arsenal can sign for a fee in the region of £45m ($69.7m).
Wenger believes that Arsenal possess the necessary firepower and goals within the team, and has called upon his midfielders to set targets and contribute with more goals this season.
The north London club currently possesses Olivier Giroud, Theo Walcott, Danny Welbeck and Alexis Sanchez in the strikers' department and the manager has backed the former two to reach close to the 20 goal mark this season, while being confident that the Chilean will also improve his goal tally this campaign.
The 65-year-old manager believes that unlike in the past when the team was dependent on Henry to score the bulk of the goals, this team has various attacking avenues from which they can score during a game.
"I respect Thierry Henry's football knowledge, but it is not as simple that you just sign a striker like Benzema and then mathematically you win the title. It doesn't work like that," Wenger said, as quoted by ESPN FC.
"It is important to have a top striker, but I think Giroud will not be far from 20 goals. If he played the whole season he would have scored 20 and [Theo] Walcott as well."
"I am not concerned about the goals in our team. We look like we can score goals when we go forward and I think we have to depend less on one guy who can score. We need to develop the collective aspect," the French manager explained.
"A guy like [Alex] Oxlade-Chamberlain should have an ambition to score 10 goals. [Alexis] Sanchez can score more goals. I think [Mesut] Ozil has to fix himself a target of at least ten goals every year playing behind the striker."
"We can share the goals around, more so than when Thierry played. Then you knew before the game he would get you a goal, but the dynamic of this team is different and we have many attacking options in this team," he added.
Arsenal are currently preparing to face West Ham United in their opening Premier League encounter at the Emirates Stadium on Sunday, 9 August.