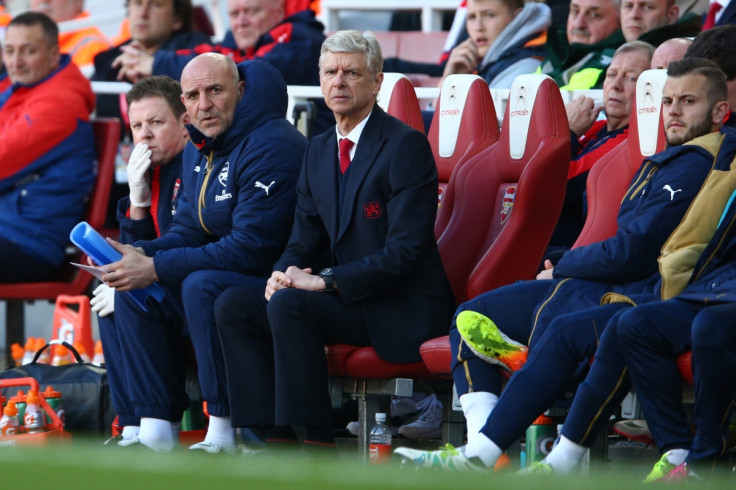 Arsene Wenger has said that Arsenal have to be more ruthless to win the Premier League title. The Gunners led the table in January but trailed off since and are currently fighting for a place in the Champions League, with two games left in the campaign.
The Frenchman has seen his side drop points against West Ham after going two goals up in the first half. They were unable to handle the physicality of Andy Carroll, whose towering presence was too much for the Gunners' defence. They also slipped up against Liverpool in the final few minutes at Anfield when Joe Allen scored a last minute goal to hold the Gunners to yet another draw.
"We have to add something defensively as a team," Wenger said, as quoted by the Mirror. "We need to be more ruthless. Once you are two-up at West Ham and you finish 3-3 you question the team defensively," he added.
The Gunners are still three points behind Tottenham Hotspur and a win for Spurs against Southampton will all but confirm that they will finish above Arsenal for the first time in over 20 years. The same has been the result of the Gunners' inability to win games while on the front foot.
"I don't think we are soft," he insisted, but then conceded: "But, yes, we need to toughen up. In some games we were caught."
Wenger is wary of the threat that teams near them will pose in the next few years, with the likes of West Ham United, Tottenham and Liverpool moving into new stadiums or expanding their capacity.
"You have got West Ham moving into a new stadium with more potential because of the finances that brings. And Tottenham are creating a new stadium as well. So in a few years, the potential in England will be much more shared than everywhere else, and you can get more surprises," Wenger added.
"Clubs down our league can buy the best players in France, Spain and Italy. So they have the potential to build a big team. And clubs in the second half of the table, like Norwich and Swansea, will be rich as well."