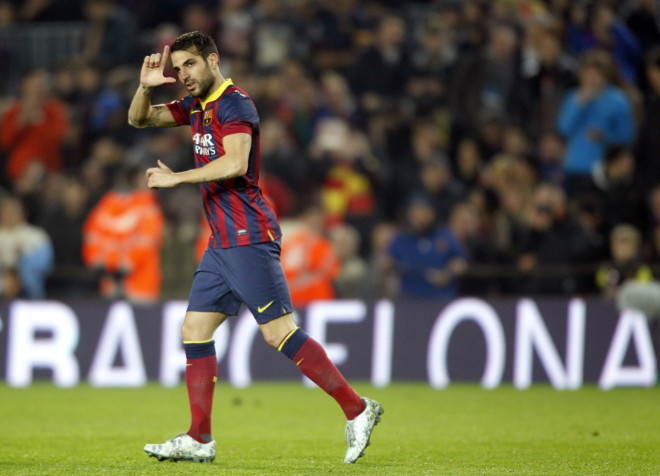 Arsene Wenger has been reportedly asked by Arsenal to sign Manchester United summer target Cesc Fabregas from Barcelona, according to the Metro.
The Barcelona midfielder has been linked with a move to Old Trafford since last summer and United are still believed to be interested in acquiring his services in the coming transfer window.
The report claims senior officials at the Emirates have urged Wenger to re-sign the former Arsenal man. Fabregas left the north London club in 2011 after spending eight years with the English outfit.
The Gunners are aware of United's interest in landing the Spain international. However, Fabregas' contract has a buy-back clause included when he left the Emirates. Should Louis van Gaal prepare a bid in signing the midfielder, Arsenal has the option of using the first right of refusal clause.
Wenger has pressure from the top officials at Arsenal to bring Fabregas back to the Emirates, though the Frenchman is not keen on re-signing his former player.
Meanwhile, the Telegraph said the Spaniard wants to return to the Premier League as he feels his time at Camp Nou has come to an end.
Barcelona are looking to raise funds in the transfer market and they are looking to push Fabregas out of the club. The La Liga giants' chiefs believe the midfielder's sale will help them raise more funds, which will help them to do business in the summer window.
Fabregas is on a £100,000 a week contract at the Catalan club and should he make a switch to the Emirates, Arsenal will not have any difficulty in meeting his current wages.
Barcelona replaced Gerardo Martino with Luis Enrique as the new manager on Monday. The incoming boss has done nothing to put the recent speculation surrounding Fabregas' future to bed.
"In principle, we have not taken any decisions like that because we still have time. Some players are now focused on the World Cup finals, which is their job, and how it should be," Enrique explained.
"We need to assess and evaluate now and when the time is right we will go into that and we will talk about everything."