Arsenal boss Arsene Wenger perplexed by anxiety over Alexis Sanchez contract
Under-fire Frenchman claims that it serves to 'absolutely deny what a professional guy is about'.
Arsene Wenger claims not to understand the current panic surrounding the long-term future of Arsenal forward Alexis Sanchez. Just like Mesut Ozil, the Chilean international is out of contract in June 2018 and painfully protracted negotiations over an extension failed to bear fruit before finally being shelved until the summer.
Sanchez is widely expected to depart Arsenal at the end of the 2016-17 campaign and recently fuelled speculation regarding a sensational switch to long-term suitors Chelsea after revealing that he would like to remain in London "but with a team that is winning things, that has a winning mentality".
The Telegraph reported last week that the Premier League leaders, having apparently scaled back their interest in Real Madrid striker Alvaro Morata, were targeting Sanchez and Romelu Lukaku as part of a high-profile double summer swoop that would cost well in excess of £100m.
The same publication subsequently revealed that Stamford Bridge topped the list of Sanchez's preferred next destinations amid a flurry of rival interest from Paris Saint-Germain, Juventus, Bayern Munich, Atletico Madrid and the Chinese Super League (CSL), although it is said that Arsenal would rather allow him to enter the final year of his contract rather than lose another player to a top-flight rival.
Addressing the passionate 28-year-old's situation once again during a press conference held in advance of Wednesday night's (5 April) visit of West Ham United to the Emirates Stadium, a bemused Wenger said: "He has one-and-a-half years [left on his] contract. I don't understand that debate. Our job is to perform as long as we are there. I do not understand this kind of anxiety. It is absolutely denying what a professional guy is about."
Inevitably asked for an update on his own future, Wenger, who has reportedly been offered a new two-year deal, remained notably coy and insisted that things would shortly become clear. He said: "I have answered that question many times. You ask again. Don't worry, you will get that [answer] soon."
A couple of Arsenal fans – complete with novelty masks – were seen protesting against Wenger's leadership outside of the club's London Colney training headquarters on Tuesday alongside banners calling for an end to his extensive tenure.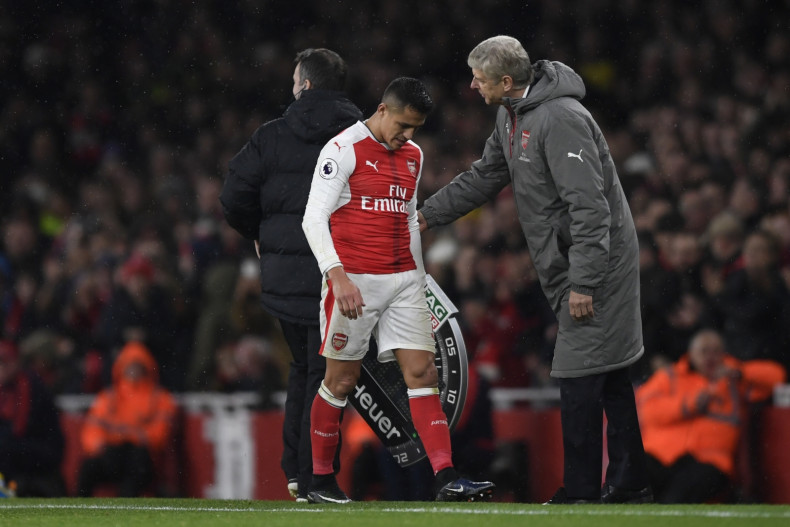 "Honestly, I am professional and when you are professional you perform in ideal conditions and non-ideal conditions," he said in response to growing supporter unrest. "I love to win football games. I just focus on that. I work for my club with honesty and integrity. I am not scared. I accept the judgement of people and focus on the game. That's it."
After a disastrous run of four defeats in five league matches was halted by a spirited 2-2 draw with Manchester City last weekend, FA Cup semi-finalists Arsenal head into that meeting with West Ham lying sixth in the table and seven points adrift of Pep Guardiola's fourth-place side with a game in hand.
Wenger, frequently maligned for comparing Champions League qualification with trophy success, believes it is now becoming evident that achieving a top-four finish every year is not as straightforward as many might have previously thought.
"It's a good challenge but I think it's certainly possible," he said. "For 20 years I have done it and it looked nothing. Suddenly now it's important and people realise it is not as easy as it looked. Guardiola said to achieve top four is a trophy.
"We have many games in April, we need everybody on board. We need the support of our fans in games. We play as well in the semi-final of the FA Cup, it's all to go for. It's a good opportunity to show we are united. We are fighting to have a positive end of season. That's why you want the fans to stand behind the team. Let's finish as strong as we can. Let's show our mental resilience."