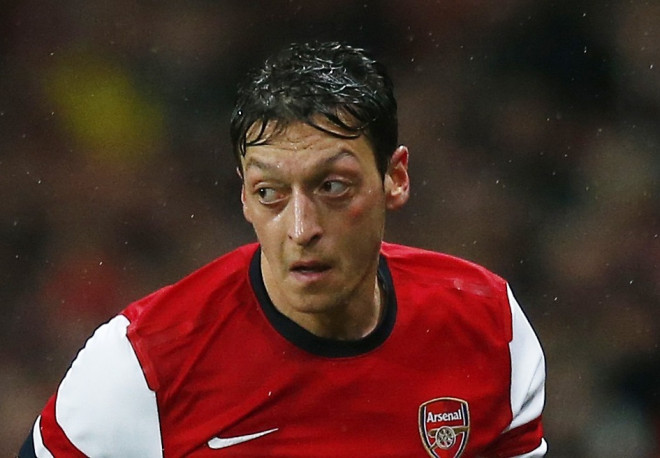 Arsenal manager Arsene Wenger wants Mesut Ozil to follow the footsteps of Dennis Bergkamp's in recovering from his penalty miss against Bayern Munich in the Champions League last-16 tie, as the Gunners' legend did in 1999, after failing to score in the FA Cup semi-final against Manchester United.
Bergkamp, who joined Arsenal in 1995, suffered a huge set-back during that game, as his erratic shot against Peter Schmeichel in injury time gifted United the Treble and left Arsenal without a second successive FA Cup final berth.
However, the Dutch striker managed to recover from the nightmare and eventually became an Arsenal legend.
Wenger hopes Ozil has the same luck, and asked in a press conference about the German international's penalty miss against Bayern, he said: "You have to let Ozil recover."
"I had examples - Bergkamp in '99, he didn't want to take a penalty after that. And Incidentally he gets a statue today. I am pleased for Dennis Bergkamp's statue because of his class and loyalty to the Club
Is Ozil over it now? Certainly not because 48 hours is a bit short to get over that," Wenger added.
Wenger is still disappointed about the 2-0 defeat, but is grateful for his side's performance.
"The players can be proud because they put in a quality performance against Bayern. We just have to get on with it
You cannot fool the players, they know they have put the performance in and they will rebuild confidence."
Arsenal plays Sunderland in a crucial Premier League game in the tittle race and Wenger believes it is a good game to help regain their confidence.
"We have an opportunity to do well in the [title] fight and it's an extremely exciting challenge
It's difficult to adjust to playing in three competitions and physically it's very demanding."
Wenger plans some changes in his line-up to face Sunderland and Olivier Giroud will feature again after his absence against Bayern.
"It is likely Giroud will be involved tomorrow. Resting him was part of a refreshment plan
"He's a strong guy. We all have weaknesses and strengths, some of us use work to forget our problems. He's one who will.
"There will certainly be changes. How many? I don't know yet. We have Gibbs [injured]. Arteta is back, nobody else."