Arsenal winger Alex Oxlade-Chamberlain admits that he is desperate to start for England on Friday when they play Moldova in a World Cup qualifier.
The 19-year-old started for Arsenal in the 2-0 win over Liverpool at the weekend and he is keen to make his mark on the international stage as England begin the Road to Brazil.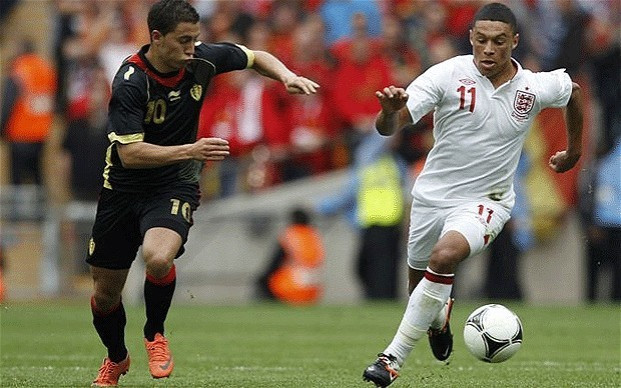 "I always want to play," Oxlade-Chamberlain told the FA website. "I didn't think I would be involved as much as I was at the Euros. It was great to learn from the likes of Steven Gerrard and it was a great experience for me.
"When you do start games, you want to keep on playing and if you didn't, there would be something wrong.
"The Manager gives a player like me the freedom to add flair to the game. He puts his trust in us and that's really good as we can express ourselves.
"People possess different qualities and you have to adapt. I have to make sure I am ready if I get the chance.
"We must never rest on our laurels. I have to keep working hard at Arsenal otherwise I will not be back in these squads."
The Arsenal midfielder also made it clear that there would be no complacency from the England players when they face Moldova, a side ranked some 134 places below Roy Hodgson's side.
"Of course, we will approach the game in the same way whether we are playing Brazil or Moldova," added the midfielder.
"We will look to win the game and play it in the right way. I will have to wait and see how it's going to go but it's the international stage and it's tough."
England begin their qualifying campaign at the Zimbru Stadium, before a home fixture against Ukraine on Tuesday 11 September at Wembley.