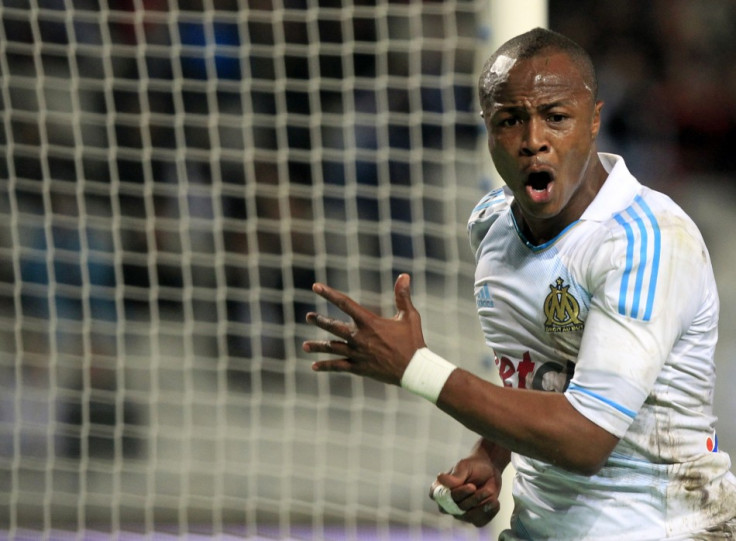 Arsenal have been dealt a blow in their pursuit of Andre Ayew, with the French winger insisting he is happy at Marseille in spite of transfer rumours connecting him with a move elsewhere.
Ayew has starred for Marseille since signing with the French outfit in 2007, and after loan spells with Lorient and Arles-Avignon, the 21 year old has attracted attention from numerous clubs in each following transfer window.
Arsenal in particular have been connected with the £8.5 million-rated star, and while Manchester United and Barcelona have also shown interest, the Gunners are reportedly in the hot seat to garner his prized signature.
Most recently, Bayern Munich were connected with Ayew, and though he has admitted to being flattered by interest from the German giants, the star says he won't be leaving Marseille - for now at least.
"I am happy with Marseille," he told skysports.com. "This club is like my home so I am delighted to wear this shirt. My family also feel like they belong here.
"My dad loves this club and I am no different, but a club like Bayern is one of the great clubs so when they show an interest you take notice - nothing is done yet though."
Arsenal are well known for following a policy of signing young footballers full of potential during the transfer windows, and Ayew perfectly fits the bill of what Wenger is looking for in a player.
While Wenger insisted last week that Arsenal aren't in the market for any January signings, the Gunners manager did admit that if the right player were available, he would consider making a move.
"At the moment, I will do nothing in January," he said.
"I have a big squad, but if you knock at my door and say 'I have a fantastic player for you', I will not turn it down. If we have no injuries, we should get away with it. We still have offensive players, but we could be a bit short if we have an injury."
Ayew's ability to play as a striker as well as a winger might also work in his favour - Marouane Chamakh and Gervinho are both set to leave Arsenal in January for the Africa Cup of Nations, leaving Wenger short if he needs back up for Robin van Persie.