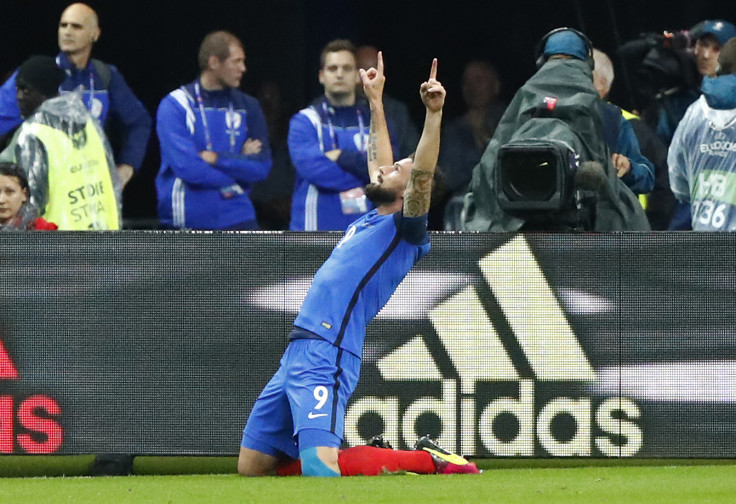 Arsenal have rejected advances for Olivier Giroud and have made it clear that the French international is not for sale, despite Arsene Wenger still searching for another striker to complement the 29-year-old this summer. The Frenchman has had a brilliant Euro 2016 campaign, scoring three goals and assisting two thus far, only overshadowed by the brilliance of Antoine Griezmann, who has six goals to his name.
The Mirror reports that the Gunners were interested in listening to offers for the striker after the end of last season but have now turned back on their stance and want to keep Giroud until at least the end of next season. The Gunners have been linked with a move for Alvaro Morata and Lyon striker Alexandre Lacazette, with the Gunners believed to be the only team in the Premier League after his signature.
The north London club are unwilling to match Real Madrid's valuation for Morata and already have had an approach rejected for Leicester City frontman Jamie Vardy. The Gunners matched his release clause but the 29-year-old turned the Gunners down and extended his contract with the Foxes, leaving Wenger to search for other options.
Meanwhile, Giroud has urged the French team to rise up to the occasion and script history, having last won the Euros in 2000, also on home soil. The Blues beat Germany in the semi-finals and will now take on Cristiano Ronaldo's Portugal in a much-anticipated final.
"It was an emotional night, we will enjoy it and then focus on Portugal," Giroud told BeIN Sport, as quoted by FourFourTwo. "It was a key moment to score the first goal, the penalty changed the game because Germany had created some chances in the first half but weren't able to score.
"It's been a while since we beat that team in a big match. We're very tired but very happy tonight. We're going to enjoy this and then concentrate on the final on Sunday. I'd like to write a chapter in history and achieve something great on Sunday. We hope there will be a great ending to this tournament, we can't stop now."