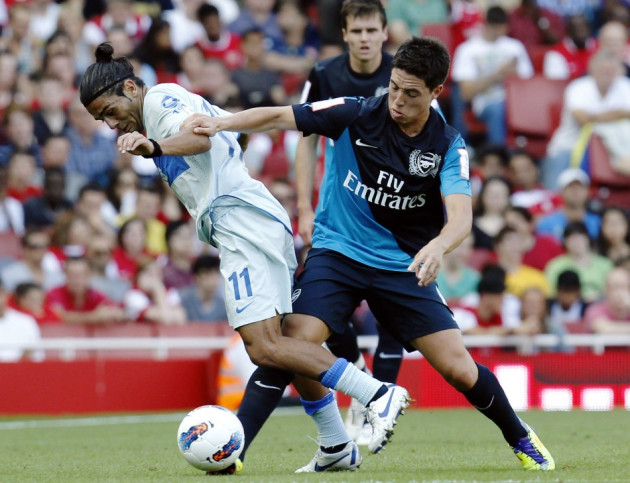 Arsene Wenger remains hopeful Samir Nasri will stay at Arsenal and moved to reassure supporters that the sale of Cesc Fabregas was not indicative of a club in decline.
Wenger spoke to reporters ahead of one of the most important matches of his 15-year Arsenal rein, Tuesday night's Champions League qualifier against Udinese at the Emirates.
Frustration amongst supporters over Wenger's transfer policy has never been more apparent than during this summer. Fabregas' move to Barcelona had been expected but the uncertainty over Samir Nasri's future, coupled with a failure to identify adequate replacements with just over two weeks of the transfer window remaining, has increased tension around the club. The pressure is suffocating but Wenger remains unmoved.
"I understand everybody's worry but I believe as well a club is a united front," Wenger is quoted in the Telegraph.
"Our players need the support from our fans. We have not to forget that the most important thing to keep your best players is that they have love from the fans and everybody inside the club.
"Our fans can be proud of the way we run this club, of the quality of player we have and of the financial situation that is existing at the club. Rather than convicting this club, they have more reason to be proud. It is an important period for this club, but I am confident we will get over it in a very successful way. We need to remain united."
Wenger's plea for unity arrived on the back of increased speculation surrounding Samir Nasri's future. The French international became embroiled in a row on Twitter on Monday after he was the focus of obscene chants from Arsenal supporters during Saturday's draw at Newcastle.
"I heard what the fans were singing about me on Saturday and it is really disrespectful because I'm still an arsenal player," he said on Monday.
Nasri has been heavily linked with a move to Manchester City after he refused to sign a new contract. A formal offer from City is expected this week but the club's chief executive Garry Cook refused to drawn on recent speculation, telling BBC 5 Live: ''We always try not to disclose anything - obviously he's still an Arsenal player and we need to respect that. So unfortunately I will refrain from giving an update on that.''
Wenger remains hopeful the French international will remain at the Emirates but admitted the club were not in a strong position.
"Ideally I want Samir Nasri to stay, but as much as we were in a strong position on the contract side with Cesc, the situation is a bit different," he said on Monday.
"Hopefully we can sort the situation out."
However, Wenger's patience is likely to be further tested by Chelsea's reported interest in the midfielder. Manager Andre Villas-Boas has turned to the Frenchman, reports suggest, after growing frustrated at the club's inability to finalise an offer for Tottenham's Luka Modric.
Whether the reported interest culminates in a formal offer or not, Wenger will not welcome the attention ahead of Tuesday night's Champions League qualifier against Udinese.
Qualification for the group stages of Europe's elite tournament is worth £25m to the club and, with Nasri, Robin van Persie and Jack Wilshire unavailable, Udinese represent dangerous opponents.
Wenger will watch the match from the stands as he serves a one-match touchline ban for his criticism of UEFA officials in the aftermath of Arsenal's defeat to Barcelona last season.
"We have a way to play football that we know; 2011 has not been great for us but as well we have not been far from huge success," said Wenger.
The Frenchman also looked to address disparagement over his strategy in the transfer market this summer.
"Everybody says to me: 'Buy'. But when I say 'who?' there is a no-man's land. We will try but let's not forget that we have brought players in. They are all quality. If you watched our two centre-backs on Saturday, I'm not convinced we have a lack of quality there. We have Ramsey, Wilshire and upcoming players who have to take responsibility."
Nevertheless, Wenger continues to rule out potential purchases while offering little indication of the club's ability to attract necessary reinforcements.
After denying last Friday that he would sign Valencia winger Juan Mata, he has subsequently ruled out deals for Shakhtar Donetsk's Jadson or Carlos Tevez from City.
Liverpool midfielder Joe Cole has emerged as a potential target for the club, with the former-England international increasingly marginalised under Kenny Dalglish.
But any move for the 29-year-old would be dependent on the player accepting a pay-cut on his £90,000-a-week wages and, at this stage, appears unlikely.
Wenger's priority remains an additional centre-back and an improved offer for Everton's Phil Jagielka is expected to arrive this week.
Elsewhere, the club continue to be linked with Marvin Martin of Sochaux and Lille's Eden Hazard, with Arsenal also expected to formalise their interest in FC Twente striker Bryan Ruiz in the next few days.