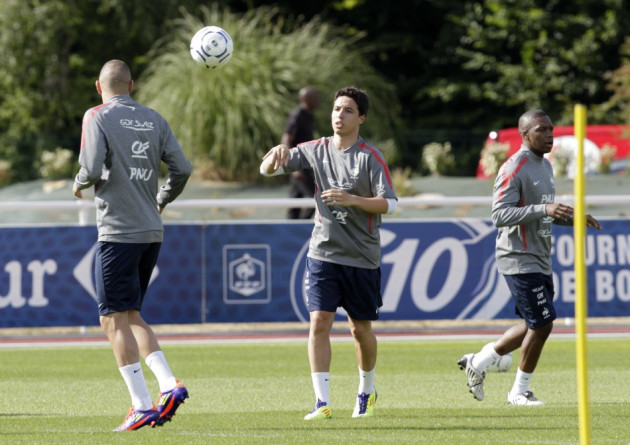 Roberto Mancini has cautioned Arsene Wenger he could end Manchester City's long-standing interest in Samir Nasri if the midfielder plays for Arsenal in their Champions League play-off second leg against Udinese on Wednesday.
Nasri featured from the start during Arsenal's Premier League defeat at home to Liverpool on Saturday and Wenger revealed the French international could feature in Wednesday's game, leaving him cup-tied should he move to another Champions League side this season.
Mancini's side moved to the top of the Premier League with a 3-2 victory at Bolton on Sunday and the City manager remains confident a £25m deal for the Arsenal midfielder can be finalised "in the next 24 hours, maybe 48 hours".
However, Mancini's account contrasts starkly with Wenger's assessment, the Arsenal manager maintains a deal is still "a long, long way away" and he has made it clear he is willing to pick Nasri on Wednesday.
"I wouldn't worry about that," he said. "What is important to us is to qualify."
And Mancini revealed he was prepared to shift his focus elsewhere if Nasri plays in Italy.
"I think we can close [the transfer] in the next two days, but if he plays in the Champions League, it will be a big problem," the Italian said.
"It's a big problem because we have followed Nasri for 40 days and I have hoped [it would be finalised] in two days or in three days. I am sure we can close this in 24 or 48 hours. But I don't know why it hasn't been closed."
Asked if he could turn his attention elsewhere if Nasri becomes cup-tied, Mancini replied: "It could be possible, yes."
Arsenal travel to Italy on Tuesday with hopes of reaching the Champions League group stages for a 14th successive season in the balance following last week's 1-0 victory in the first leg.
When questioned whether Nasri could feature at some point on Wednesday evening, Wenger replied:
"What is important to us is to qualify. Both Manchester clubs are on the case," he said. "Perhaps one day, but it's a long, long, long way from being done."
Meanwhile, Wenger has responded to Arsenal's indifferent start to the season by launching bids for Rennes midfielder Yann M'Vila and Lille's Eden Hazard, according to reports.
M'Vila, a tough tackling midfielder, has established himself as a regular in the France national side and is viewed as a natural foil to Jack Wilshire in the heart of the Arsenal midfield. Reports on Monday morning suggest Wenger has submitted a bid in the region of £15m for the 21-year-old, who is under contract at Rennes until 2015.
The Arsenal manager has also expressed an interest in Lille's Eden Hazard, although Lille value the Belgium international at around £25m and, at present, a deal appears unlikely. Similarly, Real Madrid midfielder Kaka has been linked with a loan move to the Emirates, according to unconfirmed reports, as the Frenchman looks to identify replacements for Cesc Fabregas and Nasri.
However, Wenger's immediate concern is his defence, after Laurent Koscielny limped off during Saturday's 2-0 defeat to Liverpool to compound the Arsenal manager's long-term concerns over his back-line.
A fresh bid for Phil Jagielka is expected to arrive this week but, with Everton reluctant to sell, Wenger may return to Bolton's Gary Cahill or Blackburn's Chris Samba.
Wenger has repeatedly stressed the difficulty of identifying the right players to fit into the Arsenal squad, insisting he is only prepared to invest on quality signings rather than reacting to a perceived need to sign a marquee player.
"Overall we will buy. Maybe people feel I am stubborn, but I am not, I just want to do the best for the team and buy the right players," Wenger is quoted in ESPN Soccer.
"If I have shown one thing in the last 15 years, it is that I have bought good players, we will bring as well experienced players, but people just say' buy' - but it is to buy the right player which is difficult.
"I look at the players and if they are good enough. You forget we have bought players - Gervinho, Alex Oxlade-Chamberlain, Carl Jenkinson, Ryo [Miyaichi] - and you will see over the season they are top-quality players, but at the moment we have to give them some time."