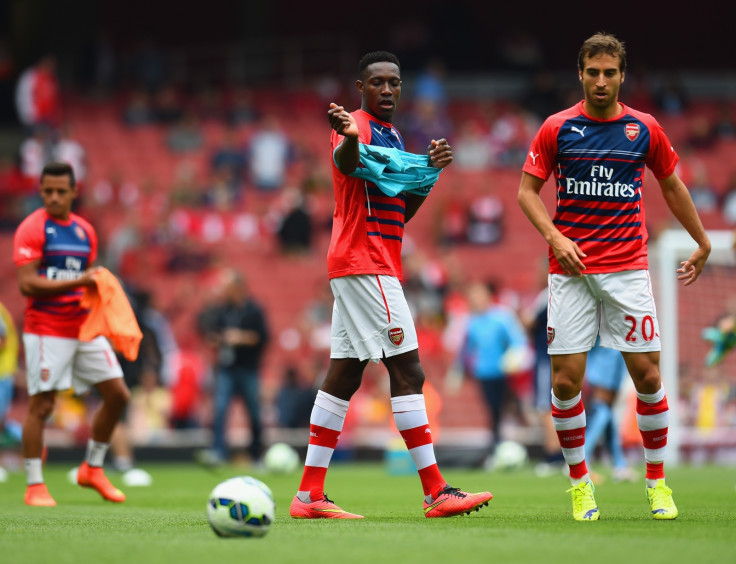 Danny Welbeck is looking on the positive side of his long-term injury absence, saying he hopes to return to action for Arsenal in "flying" form. The former Manchester United striker is expected to be available in early 2016 after undergoing knee surgery back in September.
The 25-year-old England international has not played a single game in the current campaign after coming down with an injury last April. Arsene Wenger originally suggested the star would miss just a few weeks, but he was ruled out for the reason of the season including his planned return in the FA Cup final victory over Aston Villa.
Welbeck was then expected to take advantage of the summer break and return for the pre-season. However, the return did not take place then either, and in September the club revealed he had been forced to go under the knife due to the slow progression of his rehabilitation.
Speaking with the club website almost eight months after playing his last game, Welbeck admits he has struggled with his time on the sidelines but hopes the experience will see him return stronger for the second half of the season.
"It is difficult," he said. "It is my first injury that has kept me out for so long. I had my operation and once that is sorted you can be out for a few more months. For the first month, in a leg brace, not being able to do anything, on a machine six hours a day, it was very difficult. But you have to try and see the positives. Luckily I had my family around me, my friends came down to London and I had my brothers.
"It was good to have people around me and have that support. You wake up in the morning and know you have double sessions in the gym. It is hard but you have to see the positive side and I have learnt a lot more being injured on how to look after your body and prevent injuries. I have to see the positive side and hopefully when I come back, I will be flying."
The versatile forward has also spoke out about the honour of having played under both Sir Alex Ferguson and Wenger.
"Both [managers] have that presence and both are legends in the modern game," he told Arsenal Player. "What can I say? They have won plenty of trophies between them and I have worked under Sir Alex and Arsène Wenger and it is a great honour to say that, but I want to be the best that I can be.
"I definitely feel free. Before we go out against a team we have analysed before hand [Arsène Wenger] gives the team a few pointers of what he wants us to be doing on the pitch and the lads stick to that. But he also gives you the freedom to express yourself and play the way you want to play."