Jack Wilshere was sent off for his involvement in a brawl in Arsenal's Under-23 win over Manchester City on Monday (21 August).
Having yet to play for the first team this season as he continues his recovery from a leg fracture which he suffered back in April during his loan stint with Bournemouth, the 25-year-old started the game and assisted a goal as the Gunners raced to a 4-1 lead.
However, during the second half, Wilshere was on the receiving end of a heavy tackle from City midfielder Matthew Smith, which resulted in the Arsenal man retaliating with a push.
This led to a brawl as City defender Tyreke Wilson raced to confront Wilshere and the two players started grappling with each other before their teammates had to separate them.
After the situation calmed down, the referee showed reds to both Wilshere and Wilson as the north London club eventually held on to win 4-3.
The England midfielder has since reacted to the incident both on Instagram and Twitter, claiming that it was eventful and that he was "buzzing" to get more games under his belt.
He also cheekily responded to a Sun writer who claimed that his Arsenal career had reached a new low following the City brawl.
"Evening Sam... Intrigued to hear more about how you think this is a career low for me?" Wilshere wrote on Twitter. "Would love a sit down with you? Look forward to it."
Wilshere has just one year remaining on his contract, and the 2017/18 season could be his make-or-break year after an Arsenal career that has been blighted by injuries so far.
Manager Arsene Wenger, however, has claimed that the two-time FA Cup winner still remains part of his first-team plans.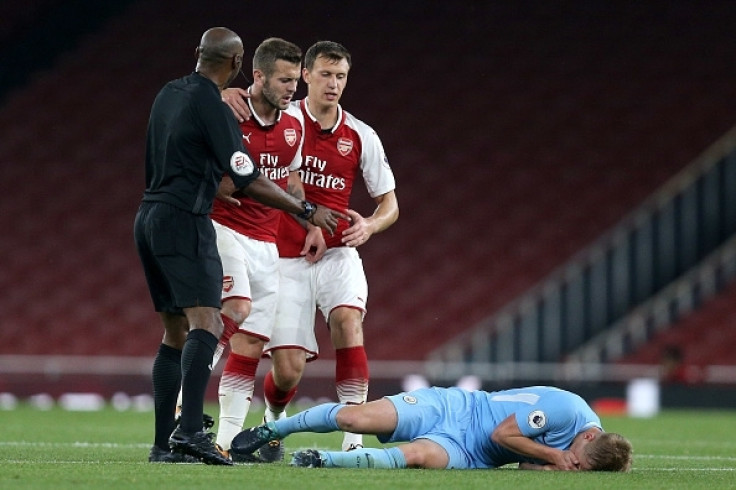 "At the moment, yes, I think I plan for him to be here for the whole season. After that, we will see at the end of the season," Wenger said earlier this month, as quoted by The Guardian. "He has the talent to be a regular but he has to come back to competition in a consistent way."