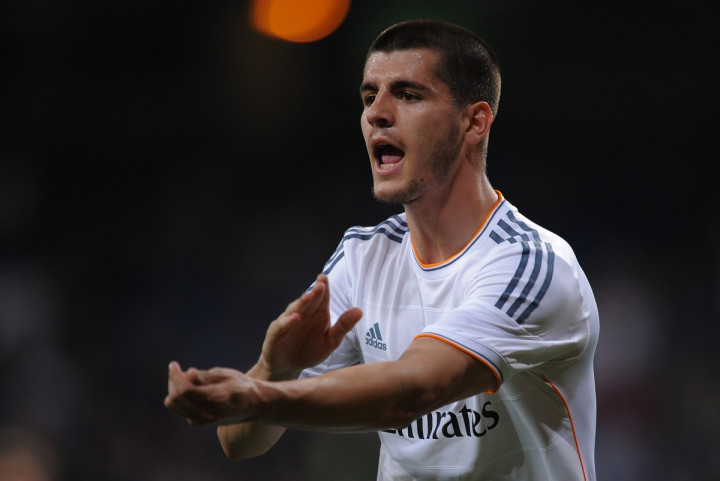 Arsenal have been told to forget about signing Real Madrid star Alvaro Morata after the striker confirmed his imminent move to Juventus.
Arsene Wenger has been monitoring the Real Madrid prodigy for some time, and he was believed to be Arsenal's first choice to bolster their attacking options during the January transfer window.
At one point the Spaniard was set to move to the Emirates Stadium on a six-month loan, but Real Madrid manager Carlo Ancelotti blocked the deal because he was his only back-up for Karim Benzema after Jese Rodriguez injured his knee.
But with the 21-year-old recently telling Real Madrid that he wanted to move away this summer, reports claimed that the Gunners were set to renew their interest as Arsene Wenger was still looking for an Olivier Giroud back-up.
However, Real Madrid's demands to include a buy-back clause in the deal left Juventus in pole position to secure his services - as Wenger was unlikely to help develop the player only to see him return to the La Liga giants in the future.
Indeed, Morata's agent Juanma Lopez confirmed earlier this week that the striker was on the verge of completing his move to the Serie A giants and that he was now "edging closer" to Juventus.
And even though neither Real Madrid nor Juventus are yet to make the deal official, Morata himself has confirmed the agreement to Spanish newspaper Marca, telling them: "I'm very happy. This is a new challenge for me".
According to reports, Juventus will pay £17.5 to Real Madrid, who retain a buyback option of £25m for the next three seasons.
Juventus boss Antonio Conte has already expressed his admiration for Morata in a recent interview.
"I can say with certainty that he has the potential to become a world-class attacker. However, he is a Real Madrid player at this point," he said.
Meanwhile, Arsenal boss Arsene Wenger confirmed the Gunners are set to make their first summer signing in the form of Alexis Sanchez.
The versatile Chile international can play in all the positions up front - as a striker and in both flanks - leaving question marks over whether Wenger will try to sign another number nine to understudy Olivier Giroud or whether he will use the Barcelona star for that role.