Arsenal striker Lukas Podolski has confirmed he will remain at the club for next season. The German international was reportedly dissatisfied with life at the Emirates and at being played out of position. The 27-year-old was quoted earlier this season as urging manager Arsene Wenger to play him as a central attacker, during the period Theo Walcott's future at the club was uncertain for the same reasons.
However, the former Bayern Munich man has now said he is "satisfied" with his position in the club. The news is likely to disappoint Serie A champions Juventus and Spaniards Atlético Madrid, who were both linked to the former Koln man.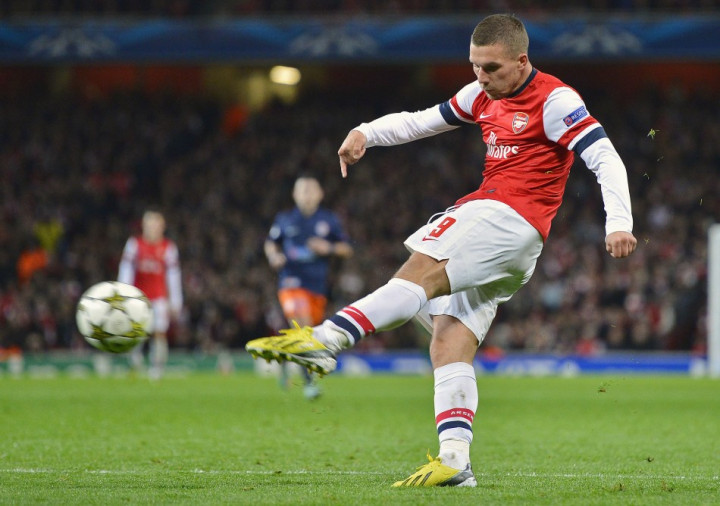 "I feel very comfortable and I am completely satisfied with my first year in England. I have no intention to leave the club. Rumours are rumours and I cannot stop them," Podolski stressed.
The forward transferred from the Bundesliga last summer and has made 33 starts, across all competitions, in his first season in the English top flight, with 16 goals and 11 assists. Podolski has had ankle problems this season but insisted he would not undergo surgery to correct the issue.
Arsenal are believed to want to strengthen their strike force in this transfer window, with Fiorentina's Stevan Jovetic and one of Real Madrid duo Gonzalo Higuain and Karim Benzema reportedly on the wish list. In addition, Wenger is reportedly also monitoring Manchester United forward Wayne Rooney's situation and could make a £200,000 per week offer for the Old Trafford star.
Mark Chamberlain on son Alex Oxlade-Chamblerain
Meanwhile, Mark Chamberlain, father of Arsenal midfielder Alex Oxlade-Chamberlain, believes his son's move from Southampton has helped him cement his place in the England squad. The 19-year-old was part of the team that played in the European Championships in Ukraine and Poland last year.
"If you are not at one of the top teams then you can get overlooked when it comes to internationals. That was one of the reasons why I pushed for Alexander to leave Southampton. It's a lot easier to get picked when you're playing for Arsenal and that's never changed. It's brilliant for him because that is what he's worked for and he's had good support from me, his mum, his agent Aidy Ward and everyone around him," he told the Sun.