Manchester City (6) v (3) Arsenal Premier League Match-Up: As It Happened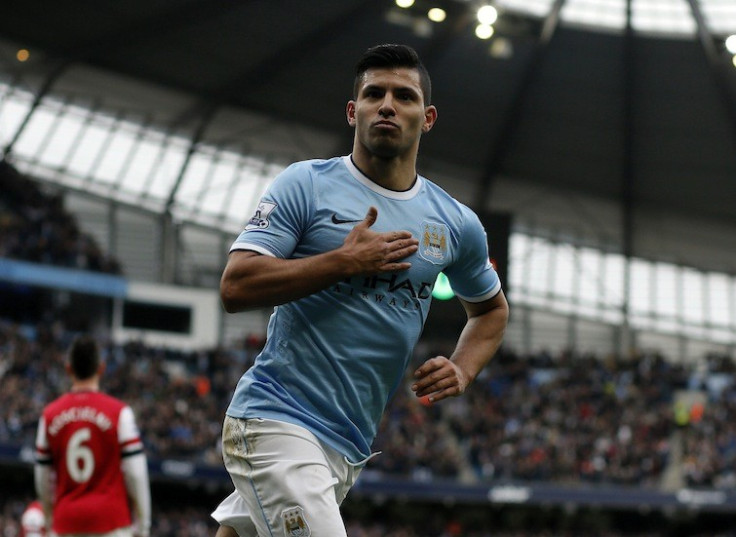 Manchester City 6-3 Arsenal
Sergio Aguero scored within 15 minutes to put City in the driving seat, leaves pitch injured in second half



Theo Walcott evens the scoreline for the Gunners in his first start for the side since September
Alvaro Negardo responds quickly with a goal just seven minutes after Walcott to put City back up
Fernandinho puts City will and truly in the advantage, taking the scoreline to 3-1 in the 53rd minute after a mistake from Ozil
Walcott scores again to keep Arsenal challenging the hosts with a beautiful team goal
David Silva makes the scoreline 4-2 to assert City's dominance
Fernandinho seals a brace to make it 5-2 for the hosts
Per Mertesacker peels one back for the Gunners in the 90th minute.
Toure scores a penalty as the goals keep coming at the Etihad
2:42pm: And that's a wrap folks! What a game!!! Manchester City looked dominant throughout the match but Arsenal's ability to take advantage of their chances can't be ignored. A brilliant home record for the hosts continues and it would appear now that Manuel Pellegrini's men are favourites to mount a serious challenge for the title.
2:41pm: GOAL! Wojciech Szczesny fouls James Milner, with Toure taking a successful penalty from the spot as a result.
2:39pm: GOAL! It's not all over yet for Arsenal it seems with Per Mertesacker making it 5-3.
2:35pm: Bendtner in with a chance shortly after City's fifth goal but it is ruled offside. This has been a rude awakening for Arsenal, who in the first half thought they were very much in the game but are now playing serious catch-ups.
2:32pm: GOAL! City make it 5-2 thanks to Fernandinho, who has now scored a brace for the side today. The man who hadn't scored for City at all until today passes back and forth with Samir Nasri to take advantage of a once again tooo-slow Arsenal defence and score off the post.
2:27pm: And another shot on goal for City as Yaya Toure heads the ball over the bar. It's looking more likely that Arsenal have to protect a two goal loss than staging a brilliant comeback at this stage.
2:23pm: Both sides getting more desperate for goals now but it's City who have been in front of the net more often than Arsenal, with 16 shots compared to their 8.
2:20pm: Arsenal take off Olivier Giroud, who has been somewhat disappointing today, and bring on Nicklas Bendtner.
2:17pm: Serge Gnabry is on for Arsenal in place of Mathieu Flamini, who has stood out for Arsenal particularly at times when the side has been poor. James Milner comes on for City in place of goal scorer David Silva and you can't help but think this isn't the last goal we'll see today.
2:11pm: GOAL! Manuel Pellegrini was right when he said his side would attack today! David Silva makes four goals for City in the 66th minute and puts the pressure back on Arsenal within three minutes of them getting back into the game.
2:08: GOAL! Theo Walcott is on song again for Arsenal to take the scoreline to 3-2. The winger takes a through ball from Aaron Ramsey to shoot into the top right corner of the net from the left side. It's game on again!
2:05pm: Arsenal make an appeal for a penalty but it is waved away after Zabaleta appeared to handle the ball.
1:56pm: GOAL! It would appear City certinaly can survive without Aguero as Fernandinho puts the ball in the back of the net to put the side up 3-1 in the 53rd minute. it was a mistake from ozil that led to the goal and the Gunners are looking less likely to come back from this by the minute.
1:55pm: And Aguero has come off - this is not good for City - with Jesus Navas replacing him. Can the side continue to dominate without their talisman?
1:53pm: And now it's bad news for City with Sergio Aguero receiving treatment for what looks to be a problem with his right calf.
1:50pm: And we're off for the second time!
1:45pm: Theo Walcott is already showing what an important player he is for Arsenal, having taken advantage of one minor mistake by City's defensive line-up to sneak in a goal and keep the Gunners competitive in this match.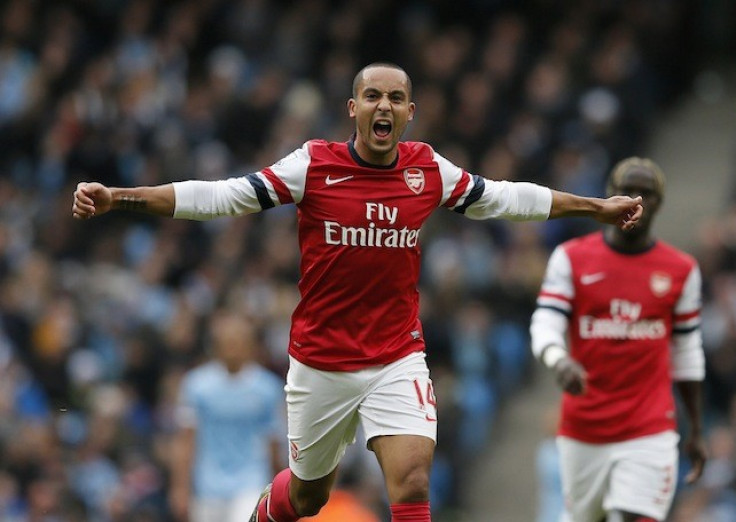 1:41pm: City have enjoyed 55% of possession in this first half and the side have had 12 shots on goal compared with Arsenal's 4. Both sides have had the same amount of shots on target as successful shots, with 2-1, and Wenger will certainly be hoping his side can increase their chances in front of the net in the second half.
1:35pm: And it's half time at the Etihad with City very much looking on top at the moment as is reflected by their 2-1 lead. Arsenal will certainly be looking at making some changes at half time, but the side have 45 minutes to show they are a serious title contender with a comeback not often seen at City's home.
1:31pm: Four minutes of injury time, meanwhile for Koscielny the club has reportedly said that he suffered a 'deep laceration' in his knee.
1:30pm: It's not looking good for Arsenal with Laurent Koscielny being stretchered off after looking to hurt his knee. Thomas Vermaelen comes on in his place - can he help the Gunners turn their fortunes around?
1:23pm: GOAL! Alvaro Negredo works quickly to get Manchester City back into the winning position in the 38th minute. Assist goes to Pablo Zabaleta and this game is certainly living up to it's billing so far.
1:16pm: GOAL! Theo Walcott is able to break through City's defence to even the scores 1-1 in the 31st minute. Despite City having the upphand across the board the winger, who hasn't started a game for the Gunners since September, takes a pass from Ozil and is able to shoot with ease from outside the box. Some credit must go to Martin Demichelis who appeared to deflect the ball as it went in, but it's brilliant work from Arsenal to get back in a game they looked very much out of.
1:08pm: City come oh-so-close to doubling their scoreline thanks to a shot from Samir Nasri, who misses to the left. The Gunners need to stand up to this soon or it could turn out to be a thrashing.
1:06pm: That's been City's only shot on target so far today but they've had four shots at the net compared to Arsenal's two. Jack Wilshere had their best chance but with the goal for City following not long after it'll be tough for them to get their momentum back.
1:02pm: So far it's all been about City at the Etihad with the side looking more in tune than Arsenal from the first minute. The Gunners have proven they're a much strong side to watch than in previous seasons but can they match Aguero's scoring prowess?
1:00pm: GOAL! Sergio Arguero takes City up 1-0 against Arsenal in the 13th minute. From 15 yards out the striker is right on target and his strike will certainly go down as one of his more enjoyable ones to watch. That's his 13th goal in the league this season.
12:58pm: Arsenal have their first shot of the game iwth Jack Wilshere shooting too far to the right from the box. City still holding the upper hand in possession, if only just.
12:55pm: Arsenal are picking up but have been unable to get close to their goal as yet. Vincent Company is on hand to stop Theo Walcott as he tries to run through with a pass from Aaron Ramsey.
12:50pm: It's been a good start for City so far who are dominating possession but Arsenal have been able to nilfy their chances as they close in on the net.
12:45pm: And we're off!
12:33pm: Arsene Wenger is as aware as the Arsenal faithful that a win against City, after playing on Wednesday night in the Champions League, will show that his side are very serious in their push for the title this season. ''It is a game where we can make a difference,'' he told reporters as his pre-match press conference. ''If we win it will have an influence on some people. Not everybody, but some.''
12:25pm: Joe Hart will start on the bench for Manchester City today as Pellegrini continues to leave the England international out of his starting line up. The Chilean manager told reporters: "I trust a lot in Joe, he's a very good goalkeeper. We'll see when is the best moment to bring him back. Costel deserves respect. He is doing very well and the team are winning almost all the games. We have two goalkeepers and we'll see when is the best moment [for Hart to] return."
12:19pm: Meanwhile in an interview with the Daily Mirror Sergio Aguero admitted to being surprised that Arsenal are serious contenders for the title, telling the paper: "At the start of the season the teams in our sights would have been Chelsea and Manchester United, not Arsenal." Read more from the Manchester City striker here
12:13pm: Manuel Pellegrini believes both sides will be going into the game expecting to score goals, telling reporters: "Both teams play as a big team. That's very important for your mentality. Some big teams prefer to be very strong defensively and have two, three, four counter attacking players. In that sense I think we are very similar."
12:08pm: Taking a look at the past form of both Arsenal and City it's hard to set the two apart; both drew their last Premier League games and won the three preceding that, with Arsene Wenger and Manuel Pellegrini's men all in fine form coming into the Christmas period. City have been touted as favourites to take the title back from United in May while the Gunners are still seemingly proving themselves after spending recent years fighting for a top four finish rather than top spot. This will certainly be a chance for Wenger to show his team are serious about staying on top of the Premier League pack but City will be a tough challenge for the Frenchman.
12:05pm: Team line-ups:
Man City: Pantilimon, Zabaleta, Demichelis, Kompany, Clichy, Nasri, Fernandinho, Toure, Silva, Aguero, Negredo. Subs: Hart, Lescott, Milner, Dzeko, Kolarov, Javi Garcia, Jesus Navas.
Arsenal: Szczesny, Sagna, Mertesacker, Koscielny, Monreal, Ramsey, Flamini, Walcott, Ozil, Wilshere, Giroud. Subs: Vermaelen, Rosicky, Arteta, Cazorla, Fabianski, Bendtner, Gnabry.
12:00pm: Hello and welcome to the IBTimes UK live blog as we prepare for a battle between two title contenders in the Premier League. Table leaders Arsenal take on Manchester City in what will no doubt be an exciting match-up as Manuel Pellegrini looks to prove his managerial credentials at the Etihad Stadium
© Copyright IBTimes 2023. All rights reserved.