Arsene Wenger is contemplating making an offer for Celtic's Victor Wanyama in the hope that the powerful midfielder can boost Arsenal's chances of securing a top four finish.
Arsenal are currently seven points off fourth place and will be looking to cut the deficit to the local rivals Tottenham on Wednesday night when they face West Ham at the Emirates.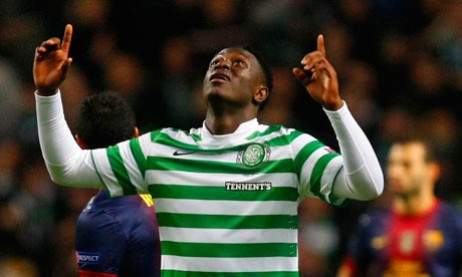 The Gunners boss admitted that he was still working hard to identify the right player and suggested that he was still looking to bring two new players to the club. He has been linked with a move for West Ham midfielder Mohamed Diame but it seems it could be another African star that arrives in north London.
Wanyama has attracted plenty of interest in recent months after his powerhouse display in the 2-1 victory over Barcelona in the Champions League. He has continued to impress for Celtic and was instrumental in the club's 4-0 victory over Dundee United on Tuesday night.
The all action display will certainly have caught the eye of Manchester United manager Sir Alex Ferguson who was sat in the stands watching the action.
There is little doubt that Ferguson will have been impressed with Wanyama's contribution as he dominated the middle of the park before capping the display with a goal.
The Independent believes that Manchester United may now consider moving for the 21-year-old which could have an impact on how quickly Arsenal decide to put in an official offer.
Wanyama may decide that he wants to stay at Celtic Park this season as the Scottish champions are in the last 16 of the Champions League where they face Juventus next month.
The Independent believes that Arsenal will have to make an offer in excess of £10million to force Celtic to truly consider allowing the midfielder, who is under contract until 2015, to leave.
Arsenal have struggled to cope with the loss of Alex Song to Barcelona in the summer and lack a physicality in central midfield with Mikel Arteta, Jack WIlshere and Aaron Ramsey his only real options.