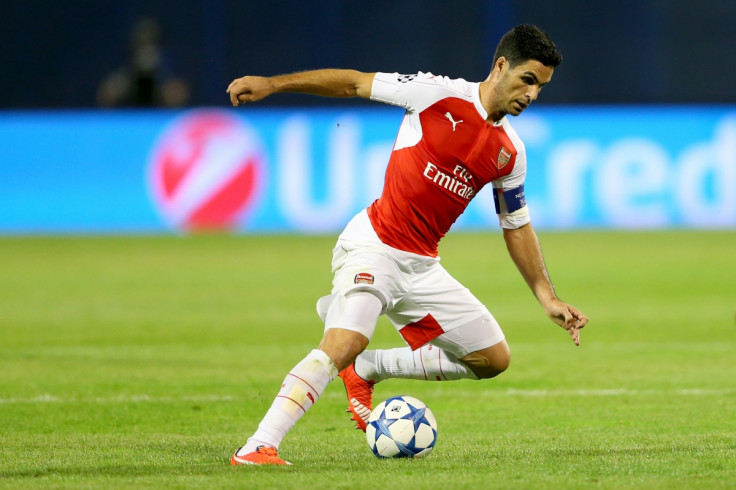 Mikel Arteta has decided to tie his allegiance to Manchester City and will join Pep Guardiola's coaching team when his contract with Arsenal expires on June 30. The Spaniard said his final goodbye to the Gunners fans on the last day of the season and has decided against continuing his relationship with the north London club.
Spanish publication Marca reports that Arteta has been personally requested by Guardiola to join his ranks as he embarks on his journey in the Premier League after winning three Bundesliga titles with Bayern Munich. City have had an impressive season under Manuel Pellegrini last season, finishing fourth in the league, winning the Capital One Cup while also qualifying for the semi-finals of the Champions League where they lost to Real Madrid.
Arteta signed for Arsenal in 2011 and has spent five memorable years at the north London club, winning two FA Cup trophies. He joins the likes of Tomas Rosicky and Mathieu Flamini to leave the club following the expiry of their contracts.
The 34-year-old has pent over 11 seasons in the Premier League and will bring a wealth of experience to Guardiola's set-up, who will be desperate to conquer England as convincingly he has done in Spain and Germany, with Barcelona and Bayern respectively. The midfielder revealed that he was 99% sure that he would stop playing football, but is yet to make a confirmed decision on his own future.
"I love competing and I love this game. I wanted to decide when the time was to leave. I preferred to make that decision myself, and not the other away around," Arteta said to the club website.
"In my opinion, I'm leaving the best club in England. I'm very happy because the people and the manager have been unbelievable to me these last few weeks. They have left the doors open for me at this club. That means a lot.
"I have to take some time. I'm 99% sure I will stop playing football," he said. "I have different options now to continue in relation to this magnificent sport. I need to sit down with my family and decide what is best for me and for football in general."