Arsenal news: Arsene Wenger should step down as manager if Gunners fail to win title says Jamie Redknapp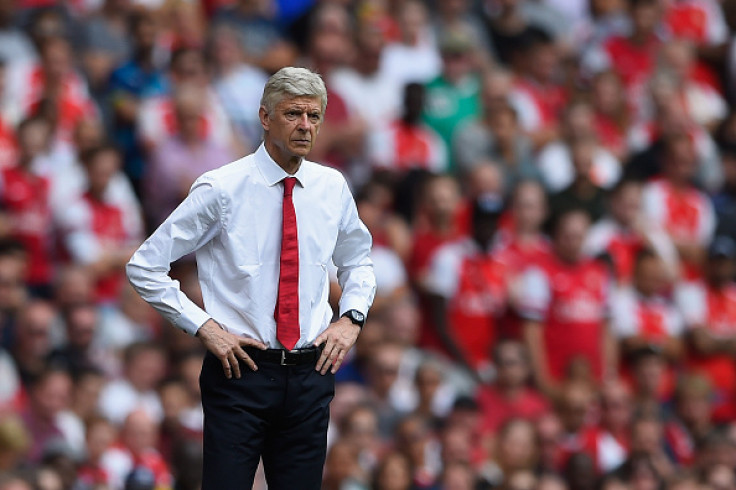 Former Tottenham Hotspur midfielder Jamie Redknapp says Arsene Wenger should step down from his post at Arsenal if they fail to win the Premier League title this season. The Gunners are third in the table with 52 points after 29 games, eight points behind league leaders Leicester City.
The north London club were the holders of the FA Cup and their hope of winning it for the third consecutive season ended when they were knocked out by Watford following a 2-1 defeat in the quarter-final clash. Arsenal's hope of qualifying further in the Champions League looks slim at this stage after their 2-0 defeat to Barcelona in the first leg at the Emirates and will play the return leg on 16 March.
Arsenal's best chances of winning silverware this season lie in their ability to beat Leicester and Tottenham in the title race. The Foxes can go five points clear of second place Spurs, if they go on to beat Newcastle United. Redknapp believes Wenger's time at the Emirates is coming to an end and the Gunners should look for a change in the summer, if the Frenchman fails to win the title.
"That was not a good result for Arsenal against Watford but this is not the time to panic. The fans won't be happy and it doesn't get any easier for Arsene Wenger with trips to Barcelona and Everton up next. But any big decisions should be left until the summer," Redknapp told the Daily Mail.
"If they don't win the league and the clamour grows for Wenger to leave, it could be that he moves upstairs to provide continuity and avoid a repeat of what happened with Sir Alex Ferguson at United. But with Arsenal still right in the title race, Wenger will hope his team can help put off any discussions about his future.
"Arsenal will forever be indebted to Wenger for what he has done but if they don't win the title this season there are going to be some difficult conversations. Wenger has constantly said how well Arsenal do to compete with the financial muscle of Chelsea, Manchester City and Manchester United but if Leicester win the title this season, that reasoning will go out the window."
"This is a golden chance to win the league and everybody knows it. The trouble is it's the same old problems for Arsenal. There seems to be a naivety in recruiting in the right areas - their defence, defensive midfield and strike-force have long needed strengthening."
© Copyright IBTimes 2023. All rights reserved.