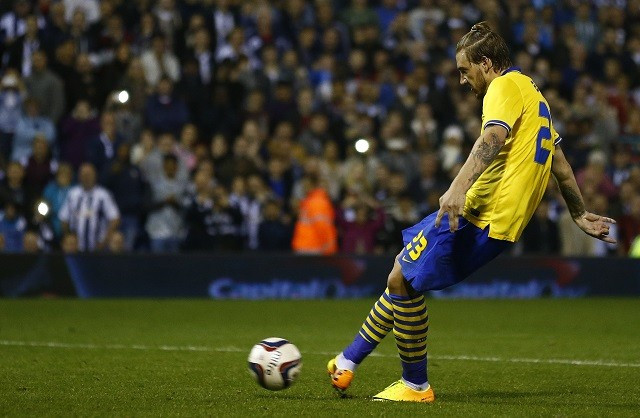 Nicklas Bendtner has expressed his delight in making a winning comeback to the Arsenal side, in the League Cup clash against West Bromwich Albion at the Hawthorns on Wednesday.
The Danish striker, who had loan spells at Sunderland and Juventus in the recent past, was expected to leave the north London outfit on a permanent move in the summer. However, the Gunners' failure to land Demba Ba on loan from Chelsea on deadline day, saw Arsene Wenger pulling the plug on Bendtner's transfer.
The 25-year-old has since reiterated his commitment to Arsenal and made his first appearance for the club in over two years against the Baggies. The forward played a crucial role in the Gunners' thrilling win, setting up youngster Thomas Eisfeld for the opener and converting a penalty in the shootout.
"Very emotional return, but what better way than with a win! Fans [were] absolutely incredible throughout the game and helped us in difficult periods. For myself I was very moved by my reception and hearing my song again made my heart skip! Young players did ever so well and kept [their] cool in a difficult penalty shootout. Respect!" Bendtner posted on his Instagram account after the match.
Arsenen Wenger also hailed Bendtner for his performance at the Hawthorns and urged the striker to stay fit and improve his work rate, in order to take advantage of his opportunities.
"One thing you don't question too much with him is his confidence. I believe for Nicklas Bendtner the most important thing is to stay fit physically and after that he has the talent. In England you know him well. For him it's important that he's consistently present and he works hard physically because he has the top qualities. The fans were absolutely fantastic. Overall I think he had a good game for a guy who has not played for such a long time on his own up front. He did very well," Wenger stressed.