Arsenal striker Olivier Giroud says speculation linking the Gunners with the signing of a new number nine is helping him boost his game to prove his doubters wrong. The France international has a target of 25 to 30 goals this season, with the aim of guiding his side to their first Premier League title since the 2003-04 campaign.
Reports during the 2015 summer transfer window claimed manager Arsene Wenger was determined to bolster his attack with a proven top goalscorer. The likes of Real Madrid's Karim Benzema, Paris Saint-Germain star Edinson Cavani and former Porto hitman Jackson Martinez were heavily linked with a move to the Emirates Stadium.
But Wenger opted to stick with the same attacking options that helped him to win the FA Cup in consecutive seasons, with Giroud among his options alongside Theo Walcott and Danny Welbeck.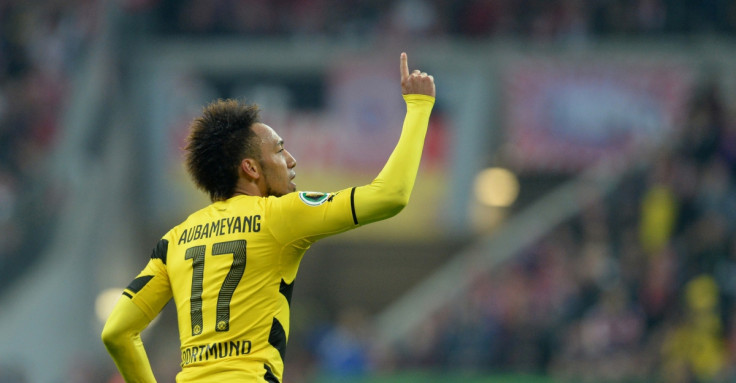 Rumours re-emerged during the January transfer window after the former Manchester United striker missed the first few months of the season due to injuries, with The Sun reporting Wenger was ready to spend £42m ($60.3m) to get the services of Borussia Dortmund striker Pierre-Emerick Aubameyang.
But Giroud says he is not concerned about rumours regarding other signings. "Obviously it helps to motivate you because when you are in your comfort zone, I think you maybe don't give your best," he said to Arsenal Magazine. "So it helps sometimes to have speculation like that, to prove that you deserve your place in the team. It's part of the job.
"In every single transfer period, there is some other striker's name coming out as a possible new signing. You have to deal with that and keep focused on the team and to help the team try to win every single game. You have to give your best and that's what I tried to do. I'm pleased with my first half of the season so far."
Giroud has scored 18 goals in 36 appearances this season, including a crucial hat-trick against Olympiacos to secure a spot in the last 16 of the Champions League. The France international, who netted 19 goals in the whole of the campaign, is happy with his stats but wants more consistency in the latter stage of the season.
"Consistency is my target," he said. "Always getting better and better. I know what I can do, I'm pleased with what I have achieved so far but I really want to carry on and I'm sure I can still improve myself. I try to work on it every day to help the team to reach our aims and to win this league."
"Yes, to be honest I would like to reach 25 goals this season, and after that why not keep going? Between 25 and 30 could be nice. But in the league, yeah, hopefully I could reach 25 – that would be a nice line," added Giroud, who often holds up six fingers when celebrating a goal ("that's for my friends, we are a group of six close friends – they are my boys!").