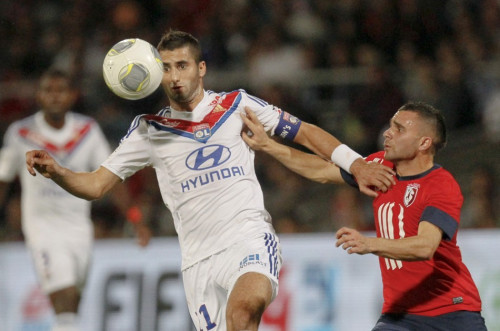 Arsenal are planning summer bid for Lyon midfielder Maxime Gonalons with Arsene Wenger looking to spruce up his midfield options, according to the Daily Mirror.
The Ligue 1 club have reportedly rejected a £14m bid from Napoli for his signature, paving way for Wenger to make a bid next summer for the midfield anchorman.
The player has made 18 starts in the league this season without troubling the scorers but acts as a great screen in front of the back four and will come in as a solid replacement for Mikel Arteta, who is nearing his mid-thirties. The Gunners also have Mathieu Flamini to deputise in that position but Wenger is looking for a long term option to come aid his side.
Meanwhile, Gonalons has revealed that he will be willing to move out of the club but has ruled out an exit in January. The midfielder is overwhelmed by Napoli's bid but insists that he has no say in the matter as Lyon will not let him go midway through the season.
"Napoli's offer was very interesting and I certainly thought about it. In football, what's true one day might not be the case on the next. I will continue to give my best for Lyon. I am the captain and I have to show the example. Today, I'm in Lyon. But tomorrow, no one know what will happen," the 24-year-old said in an interview.
"When big clubs like Napoli come in for you, you ask yourself questions. There have been discussions and decisions have been taken. The President [Jean-Michel Aulas] closed the door despite a big offer from Napoli. He wouldn't let me go. I have to accept that - I didn't want to cause issues for the club," he added.
However, he hinted that he may be willing to move after the end of the current season and is likely to attract interest from a host of top clubs.
"I will continue with Lyon until the end of the season. I will give everything for the club and we'll see what happens next. I don't have regrets. In football, things can change quickly. It's up to me to do my job and look at offers in June," he concluded.