As scintillating as Manchester City have been this season, being slightly above average was good enough to swot Arsenal away in Sunday's [25 February] Carabao Cup final.
Arsene Wenger's decision to revert back to a system with three at the back, the same one that stifled City in the club's FA Cup semi-final win last season, was widely praised ahead of kick-off that afternoon. With the exception of Henrikh Mkhitaryan, ineligible for the Gunners that day, the manager was able to name his first choice starting XI, bolstered by the returns of Aaron Ramsey and Mesut Ozil from injury and illness respectively.
Despite all that, it all went so horribly wrong. It poses the question; what can they do to ensure the same thing doesn't happen on Thursday [1 March] when the two meet in the Premier League?
The fact the game is taking place at the Emirates would normally provide a slim advantage for Wenger to build on, given the Gunners have lost just two of their last 31 league matches on home turf.
But such was the toxicity emanating in the aftermath of Sunday's loss, those familiar surroundings could be treacherous for the home side unless those in attendance are given a reason to stay onside.
From a tactical standpoint, Wenger has the option of switching back to a flat back four, but given his comments post-match he could opt to keep things the same.
"At Wembley last season we did well against them with three at the back as well," he said in his post-match press conference [football.london]. "I thought we did well in the first-half defensively. The goals we conceded couldn't be explained by playing three at the back. I don't think the system was questioned on that."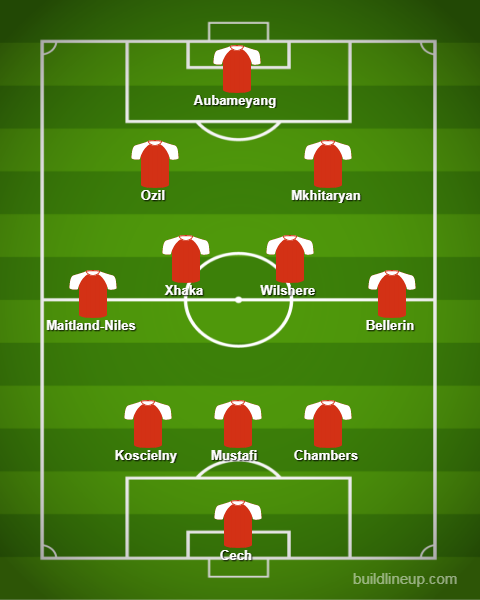 He had a point. Shkodran Mustafi's error that led to Sergio Aguero's opener had little to do with his positioning or the system he was playing in; more to do with a staggering lack of anticipation and aggression. Worryingly for Arsenal, while the Germany international being dropped would be perfectly justifiable, Rob Holding and Per Mertesacker are the only other options if Nacho Monreal is not available, having been forced off injured in the first-half on Sunday.
The Spaniard started that match at left-wing back, a call that surprised many with Sead Kolasinac on the bench. The Bosnia and Herzegovina international is an option to start if Wenger keeps to the same system but after his particularly wasteful afternoon down that left after coming on to replace Monreal, 20-year-old Ainsley Maitland-Niles could come in.
Aaron Ramsey failed to provide any real energy in the middle of the park and coming back off a knock that ruled him out for three games before the final, Wenger may feel he is the man to drop out, allowing Jack Wilshere, perhaps Arsenal's best player on Sunday, to return to a central midfield role.
Wilshere dropping back opens up another spot in attack. Due to a cameo appearance off the bench for Manchester United against Bristol City in December, Mkhitaryan was ineligible for Sunday's final and it seems a given he will return to the starting XI on Thursday.
With inspiration coming at a premium for the Gunners at the moment, they urgently need the Armenia international and Pierre-Emerick Aubameyang to start working some of the magic we saw glimpses of against Everton. With a big Fernandinho-shaped hole in the Man City midfield this Thursday, Mkhitaryan and Mesut Ozil will surely have a better opportunity of finding space between the lines to free the club's record signing; perhaps their best chance to appease supporters whose patience may have already run out.