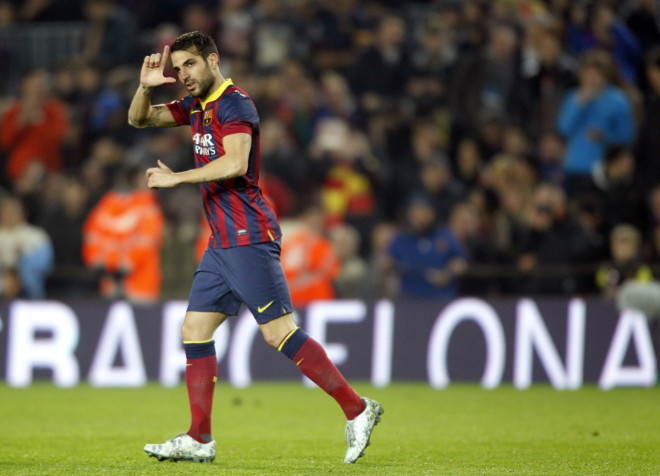 Arsenal are preparing a £29.2m move for Cesc Fabregas in the upcoming transfer window, according to Spanish publication Sport.
The midfielder left the Emirates for Barcelona in 2011 and has been linked with a move out of the club in the summer, with the Catalans looking to generate cash to go on a spending spree.
Arsenal have reportedly started talks with his agent Darren Dein for a move back to London but the Spaniard is reportedly waiting for a conversation with manager Luis Enrique before deciding on his future.
Manchester United, Manchester City and Liverpool are all keeping a close eye on his situation and will make a move if Arsenal withdraw their interest in the player.
The Gunners are well stocked in the creative midfield position with the likes of Santi Cazorla, Mesut Ozil, Jack Wilshere and Aaron Ramsey, all capable of playing that role.
However, Fabregas' arrival will give them a player who is conversant with Wenger's style of play, having been at the centre of their attack for the major part of a decade.
It will be up to the Frenchman to fit him into the side, which needs a striker and a defensive midfielder to challenge for bigger trophies next summer, having ended their nine-year wait with an FA Cup win.
Wenger, who signed a three-year extension, has revealed that he wants to strengthen his squad and will spend big in the summer to prevent a repeat of last season when they lost heavily against the big teams away from home.
"We know we have to have a successful June and July, that's where you strengthen the team," Wenger said.
"It's very important that we are good now in the next two months until the end of August, that we can give to the team some more quality.
"What I can promise is that we work very hard on a market that is very, very congested with many people who have a lot of money.
"But we have a big advantage, players want to join us and if we find the right quality I'm sure we can strengthen the team. I think we can fight [with their rivals] on a more even level than before," he added.