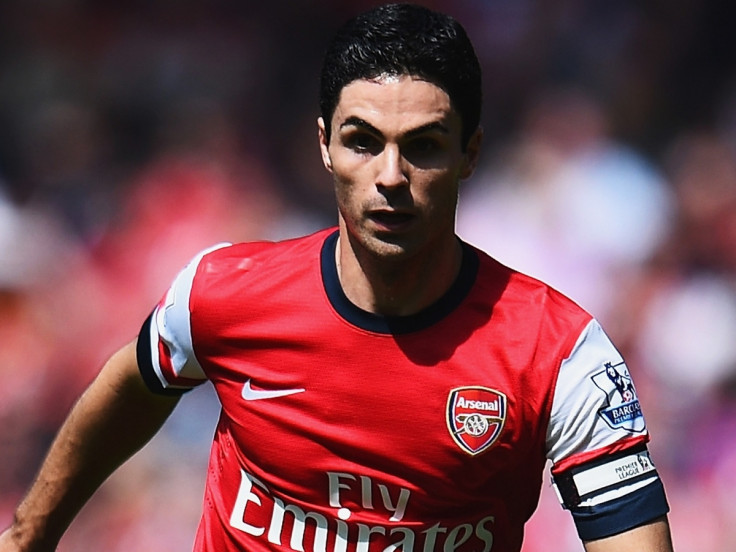 Arsenal's need for midfield and defensive reinforcements has heightened with Mikel Arteta and Mathieu Debuchy set to miss three months after both underwent surgery.
Gunners captain Arteta has struggled with injury problems throughout the 2014/15 campaign and has not played for the club since he was forced off in their final Champions League group game against Borussia Dortmund on 22 November.
The club have since confirmed Arteta has undergone surgery on his left ankle to remove a bone spur, which has been the source of the Spaniard's discomfort this season, and expect his rehabilitation to last until at least April.
"Mikel has had surgery which went well. I have just seen him, he is back with us at the training ground," Wenger said via the club's official website.
"He had limited mobility in his ankle and some persistent inflammation that had an impact on his calf. That meant we had to make the decision to have surgery and it's a proper solution which gives him the best chance to recover."
The Gunners have also lost summer signing Debuchy after the defender underwent his second major surgery of the season, after he suffered a shoulder injury in the 3-0 win over Stoke City on Sunday 11 January.
"Mathieu had a surgery on his right shoulder following the injury on Sunday," Wenger said.
"It's very unfortunate for Mathieu, it's unbelievable because he's had two surgeries in the same season. He just came back, he played seven games and he's out again. I count three months out for Mathieu because contact will be a problem for the shoulder."
Debuchy's season was derailed by a broken ankle suffered in September.
Wenger made the decision to recall Francis Coqeulin from his loan spell at Charlton Athletic in Arteta's absence.
While the 23-year-old has performed admirably on his return to north London in his holding midfield role, Wenger will now be under increasing pressure to strengthen one of the weakest areas of his side.
Arteta's contract at the Emirates Stadium expires at the end of the season.