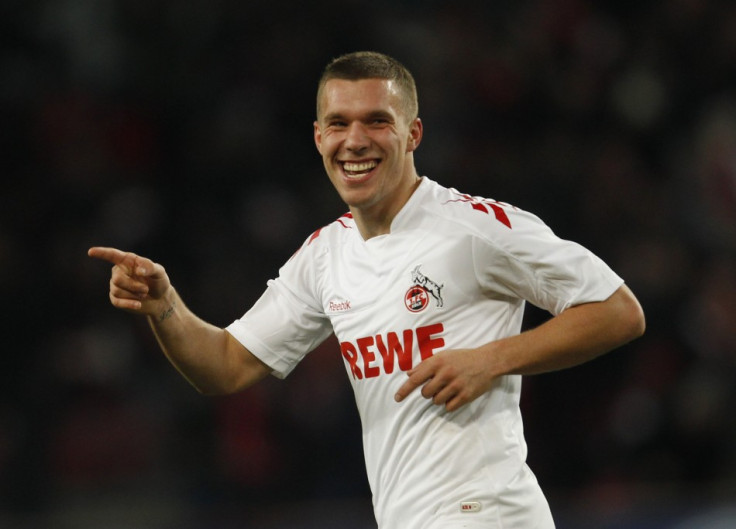 Per Mertesacker has sung the praises of Cologne striker Lukas Podolski, with the Germany international said to be a long standing target for Arsenal.
Podolski has starred for Cologne since moving to the club from Bayern Munich in 2009, and after scoring 29 goals in 74 appearances for the club, he has been attracting the attention of numerous European clubs.
Arsenal had long been connected with £20 million-rated Podolski, but Arsene Wenger insisted a move was unlikely, saying a stern no when asked by reporters earlier in the month if he would move for the hitman in January.
And as rumours surround a possible loan deal for Thierry Henry to make a gallant return to Arsenal's line up next month, Mertesacker has praised Podolski's ability to deliver goals whenever needed for both Cologne and Germany.
"Of course, of course. He is a great player, especially for the national team," said Mertesacker. "He scores a lot of goals, he's a good striker with a very good finish with his left foot.
"His left foot is unbelievable and I'm a fan. This year, he has scored a lot of goals. He is powerful as well, he's a great player. You see, new Germans are not so bad!"
Arsenal are planning to bolster their up-front options as Marouane Chamakh and Gervinho travel to represent their respective countries in the Africa Cup of Nations in January.
Henry, who is currently training with the Arsenal squad in the MLS off season, is widely tipped to be close to signing a deal to head to the north London club on loan. And while Mertesacker holds Podolski in high esteem, he also believes that Gunners legend has a lot to offer the side both on and off the pitch.
"I am very happy training with him [Henry], very happy. He is playing very, very good. I am happy to play against him in training and it is a great experience," he said.
"He is a great opportunity for us, but I'm not the manager, I couldn't find a decision or what is possible for him or for us.
"In training he shows his class and to have him with us is great because he shows his attitude, his experience. He still has the same attitude he showed in a lot of games at Arsenal."