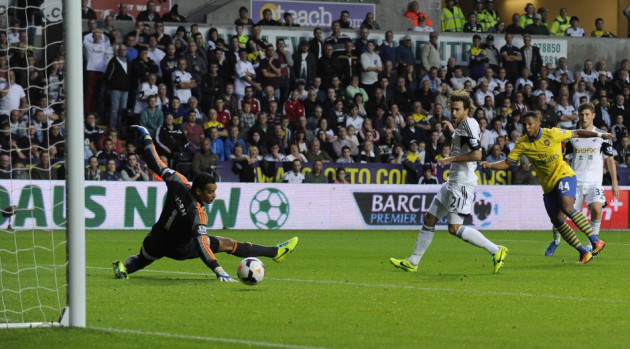 When Serge Gnabry finished off a wonderful flowing Arsenal move by slotting the ball past Swansea goalkeeper Michel Vorm it marked a significant moment in the career of the young German winger. It was his first senior goal for the Gunners, but much more than that, it proved that he belonged in the first team.
It has been a rapid rise for the 18 year old who only joined Arsenal back in the summer of 2011 from German side Stuttgart for a token fee of £100,000. Since the moment he arrived in north London just after his 16th birthday he has excelled across a host of youth teams and is now viewed as one of the brightest talents in the Premier League.
His manager Arsene Wenger has consistently talked up his talent and is convinced that Gnabry has what it takes to be a success at the very highest level. Blessed with searing pace, wonderful close control and the ability to glide past players, he is now demonstrating his ability in an Arsenal side looking to win a first Premier League title since 2004.
"He has the talent, but he has the personality on the pitch as well," praised Wenger after seeing Gnabry score his first senior goal. "He doesn't look timid, he looks to play with belief and, of course, talent."
Gnabry has had to wait for an opportunity to impress, and it has come due to injuries to Theo Walcott and Alex Oxlade-Chamberlain, but it has come as little surprise to Arsenal coaches and supporters that he has made an instant impact.
For the last two years the German youth international has excelled in various competitions, from starring for the Under-18s to grabbing headlines in the NextGen competition and shining in the Under-21 Premier League.
In his debut campaign with the Under-18s he would fire six goals in just eight games, including a sensational strike against Crystal Palace on his debut. His performances would catch the eye of reserve team boss Neil Banford who quickly handed him an opportunity and Gnabry would not disappoint.
Despite his young age and relative lack of experience he would fire two goals in six games and begin to make waves amongst supporters who were starting to be alerted to his talent.
Last season Gnabry would make his debut in the first team, featuring in the 6-1 rout of Coventry in the League Cup, but it was his displays in the NextGen series that were gaining him rave reviews.
In the quarter-finals of the European competition he scored the only goal as Arsenal defeated CSKA Moscow before grabbing a late equaliser in the semi-finals to make it 3-3 against Chelsea. The Gunners would eventually lose in extra-time but it was a memorable month for the winger who played just days later for the Under-21s and scored against Liverpool.
Now Gnabry is looking to make the most of his opportunity in the first team and his performance against Swansea has not just had the British press dishing out superlatives, but back in his native Germany the papers were full of praise.
He was labelled the 'Next German Wunderkind' by BILD who focused on his display rather than that of superstar Mesut Ozil who has similarly excelled since joining Arsenal. Sport11.de were equally enthusiastic about his display, taking great pleasure in pointing out that the Premier League club's top young talent is German.
"Even Arsenal's fifth-Import from Germany shoots himself into the spotlight. Arsene Wenger must almost felt sorry for the English. Gnabry is extremely fast, both footed, has outstanding ball control and runs like a high-speed train to the goal."
Gnabry will want to demonstrate to Wenger that he deserves to remain in the side even when the likes of Walcott and Oxlade-Chamberlain are fully fit. With a Bavarian feel at the Emirates these days it could well be that the teenage winger spends plenty of time celebrating with his fellow Germans Lukas Podolski, Per Mertesacker and Ozil in the months to come.