Arsenal Star: Forget the Media, We Can Win Premier League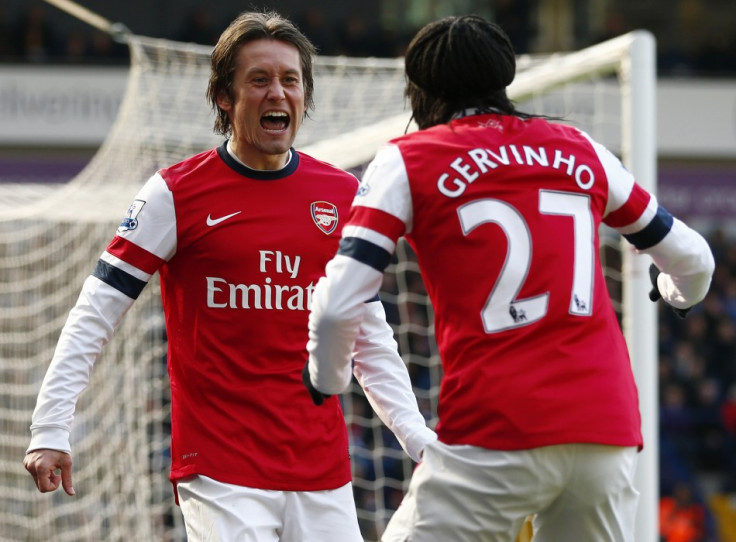 Arsenal's Tomas Rosicky continues to take no notice of those who still doubt their Premier League title credentials, according to reports.
After the 1-0 victory over Tottenham at White Hart Lane, Arsene Wenger's side sit third in the table, just four points behind leaders Chelsea with a game in hand.
However the Blues, Liverpool and Manchester City are considered to be more serious contenders for the championship.
Rosicky, who scored a brilliant second-minute winner at White Hart Lane, believes that the scepticism will have no effect on his club or the final destiny of the title, saying: "You cannot influence what the people around you are saying. I mean no disrespect to you [the media] but I don't care what you are saying. Do not take it negatively but it is like that.
"All that counts is that we go on the pitch and win the game. If we do not win the game, obviously you [the media] are right [about Arsenal]. The only thing that you can influence [as a player] is on the pitch. The truth is on the pitch. Nothing else matters.
"Since I have been in England and playing for Arsenal, it is the first time it has been like this. Four teams basically are fighting for the title. It is amazing for everyone – the players, the supporters, the media. It is great and it will be very interesting until the very last day of the season.
"Whether you or the other people believe in us or not, it does not matter for the team because we have to come and convince everyone on the pitch. The truth is on the pitch."
But the 33-year-old, whose fine form this season saw him sign a new contract recently, admitted the fight for the title will not be easy, telling www.arsenal.com: "It can change very, very quickly in two games and of course you talk about Chelsea and Manchester City but you have to talk about Liverpool as well."
The Gunners will visit Chelsea this weekend in what is shaping up to be a title-deciding clash at Stamford Bridge, where the Blues remain unbeaten in the Premier League under Jose Mourinho. It would be sweet revenge for Wenger to put an end to the Portuguese's record, especially on his 1000th game in charge.
© Copyright IBTimes 2023. All rights reserved.